Al Martino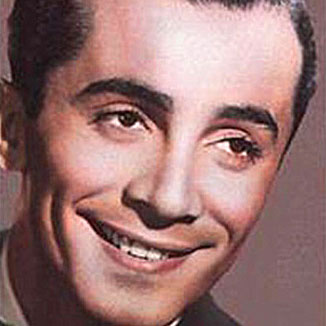 Inducted: 1989
Al Martino was one of the great Italian-American pop crooners, boasting a string of hit singles and LPs that stretched from the early '50s all the way into the mid-'70s. However, he is perhaps even better known for his role in The Godfather as singer Johnny Fontane, a character supposedly based on Frank Sinatra but with eerie similarities to Martino's own career. Martino's 1952 debut smash, "Here in My Heart," made him the first American artist to top the charts in Great Britain, but his career was interrupted by gangster interference, which kept him out of the U.S. for much of the '50s. He later returned and rejuvenated his career, scoring his signature hit with 1965's classic "Spanish Eyes" and reaching a whole new audience via The Godfather in 1972.
Martino was born Alfred Cini in Philadelphia on October 7, 1927. His Italian immigrant parents ran a masonry business, and he worked alongside his brothers as a bricklayer while growing up. However, he was more interested in music, and was inspired by Al Jolson and Perry Como to try his own hand at singing. When his boyhood friend Alfredo Cocozza changed his name to Mario Lanza and became an international opera star, the possibility of a career in music suddenly seemed plausible. Adopting the stage name Al Martino (after his maternal grandfather's last name), he performed in local nightclubs for a time, and moved to New York City in 1948 with Lanza's encouragement. He went on to win first place on the Arthur Godfrey's Talent Scouts show, thanks to a rendition of Perry Como's "If." That exposure helped him land a record deal with the Philadelphia-based independent label BBS.
In 1952, Martino recorded a ballad called "Here in My Heart" as his debut single. When he heard that Lanza was set to cut his own version, Martino called him and begged him not to, knowing that Lanza's record would immediately eclipse his own. Lanza relented, and "Here in My Heart" became a breakthrough smash for Martino, selling over a million copies and topping the charts in both the U.S. and U.K. Its success earned Martino a major-label deal with Capitol, and he released three more singles – "Take My Heart," "Rachel," and "When You're Mine" – through 1953, all of which hit the Top 40.
Unfortunately, a few of Martino's new fans wanted in on the action; according to legend, Martino's contract was forcibly taken over by a new, Mafia-connected management team, which then ordered Martino to pay a 75,000 dollar fee upfront, as a safeguard for their investment. Martino made a down payment to ensure his family's safety, then fled to England, where his popularity allowed him to perform successfully for a time; he even headlined the London Palladium. He continued to record in Britain with moderate success, but his work received no exposure back in the U.S. In 1958, thanks to the intervention of a family friend with the local Philadelphia boss, Martino was allowed to return home and resume his recording career.
By this time, Martino's initial momentum had long since cooled, and he faced an uphill battle re-establishing himself, especially since he hadn't been forced to contend with rock & roll the first time around. He recorded for 20th Century Fox during the late '50s, but none of his ten-plus singles reached the Top 40, and the label wound up dropping him. Undaunted, Martino financed the recording of a new album, The Exciting Voice of Al Martino, all on his own. It wound up landing him a new deal with Capitol, which issued the LP in 1962; its updated version of "Here in My Heart" was also released as a single, and barely scraped the charts. Martino quickly followed it with a mostly Italian-language LP, The Italian Voice of Al Martino, and made several high-profile television appearances to re-establish his visibility.
Thanks in part to those TV performances, Martino was able to score a major comeback hit with 1963's "I Love You Because," which heralded a newly understated vocal style and had previously been a country hit for honky tonk singer/songwriter Leon Payne. Arranged by Belford Hendricks, Martino's pop version went to number three on the pop charts, and all the way to the top of the easy listening charts. The accompanying album of the same name went Top Ten, and Martino remained a regular visitor to the charts for over a decade afterward, at first concentrating on country-tinged pop material with musical director Peter DeAngelis. 1963 brought more hits in "Painted, Tainted Rose" (Top 20 pop, Top Five easy listening) and "Living a Lie," and the accompanying Painted, Tainted Rose album became his second Top Ten. He charted four more times in 1964 with "Always Together," "I Love You More and More Every Day" (pop Top Ten), "Tears and Roses" (pop Top 20), and "We Could"; all were Top Ten easy listening hits.
In 1966, Martino recorded what would become his signature song, "Spanish Eyes," an adaptation of an instrumental piece by German conductor/composer Bert Kaempfert originally titled "Moon Over Naples." Although "Spanish Eyes" only made number 15 on the pop charts, it spent a month at number one easy listening, found tremendous success all across Europe, and was covered by countless other traditional pop artists over the years. The album of the same name went gold and became Martino's third (and final) Top Ten LP. He scored two more big easy listening hits that year with "Think I'll Go Home and Cry Myself to Sleep" and "Wiederseh'n," and in 1967 topped those charts twice with the folk-styled "Mary in the Morning" and the Bob Crewe-penned "More Than the Eye Can See."
Martino had a few more easy listening hits through the end of the '60s, including a vocal version of Paul Mauriat's instrumental "Love Is Blue" (1968) and a cover of Elvis Presley's "Can't Help Falling in Love" (1970). However, his career momentum was slowing down, and his albums failed to attain their usual Top 100 chart placements. Fortunately, his longtime friend Phyllis McGuire (of the McGuire Sisters) was familiar with Mario Puzo's novel The Godfather. When Paramount decided to make a film version, McGuire brought the character of Johnny Fontane – a fading pop idol who needs mob intervention to land the film role that would resurrect his career – to Martino's attention. Although rumor had it that Fontane was based on Frank Sinatra, and his Oscar-winning turn in From Here to Eternity, the role resonated deeply with Martino, and he wound up winning the part. The Godfather, of course, was a huge critical and commercial success, and Martino's appearance – not to mention his recording of the film's love theme, "Speak Softly Love" – refreshed his reputation and even made him something of a cult icon.
Despite radically shifting tastes in pop music, Martino was able to parlay his Godfather role into a few more years of recording success. He returned to the pop Top 20 for the first time since "Spanish Eyes" with 1975's "To the Door of the Sun (Alle Porte del Sole)," an English translation of a popular Italian song. He also scored a highly unlikely dance-club hit that year with a disco-fied version of the Italian pop standard "Volare," which was especially popular in Europe. Martino toured the nightclub circuit extensively during the '70s, and had another easy listening hit with 1978's "The Next Hundred Years." Faced with diminishing returns, he and Capitol finally parted ways in 1982. Martino continued to perform in clubs, lounges, and casinos for some time afterward, and returned to recording in 2000 with the album Style. Martino currently tours extensively in the U.S. and Europe.
Steve Huey, All Music Guide (allmusic.com)