Benny Golson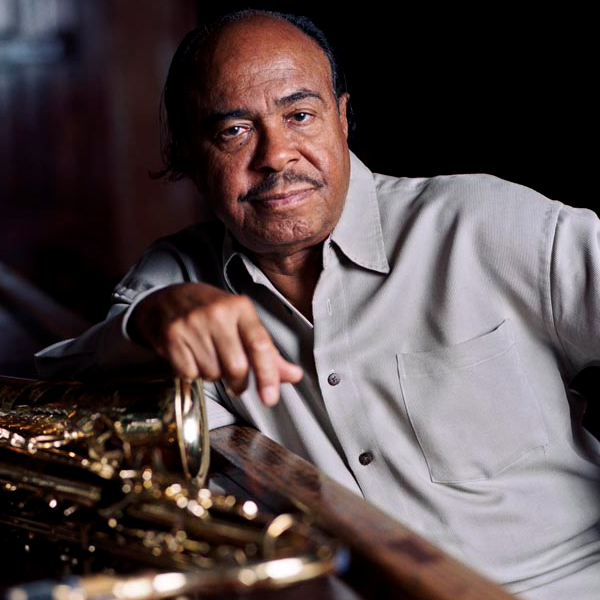 Inducted: 2016
Multitalented and internationally famous jazz legend, – a composer, arranger, lyricist, producer – and tenor saxophonist of world note, Benny Golson was born in Philadelphia, PA on January 25, 1929.
Raised with an impeccable musical pedigree, Golson has played in the bands of world famous Benny Goodman, Dizzy Gillespie, Lionel Hampton, Earl Bostic and Art Blakey.
Few jazz musicians can claim to be true innovators and even fewer can boast of a performing and recording career that literally redefines the term "jazz". Benny Golson has made major contributions to the world of jazz with such jazz standards as:
Killer Joe, I Remember Clifford, Along Came Betty, Stablemates, Whisper Not, Blues March, Five Spot After Dark, Are you Real?
Benny Golson is the only living jazz artist to have written 8 standards for jazz repertoire.
These jazz standards have found their way into countless recordings internationally over the years and are still being recorded.
He has recorded over 30 albums for many recording companies in the United States and Europe under his own name and innumerable ones with other major artists. A prodigious writer, Golson has written well over 300 compositions.
For more than 60 years, Golson has enjoyed an illustrious, musical career in which he has not only made scores of recordings but has also composed and arranged music for: Count Basie, John Coltrane, Miles Davis, Sammy Davis Jr., Mama Cass Elliott, Ella Fitzgerald, Dizzy Gillespie, Benny Goodman, Lionel Hampton, Shirley Horn, David Jones and the Monkees, Quincy Jones, Peggy Lee, Carmen McRae, Anita O'Day, Itzhak Perlman, Oscar Peterson, Lou Rawls, Mickey Rooney, Diana Ross, The Animals (Eric Burden), Mel Torme, George Shearing, Dusty Springfield.
His prolific writing includes scores for hit TV series and films: M*A*S*H, Mannix, Mission Impossible, Mod Squad, Room 222, Run for Your Life, The Partridge Family, The Academy Awards, The Karen Valentine Show, Television specials for ABC, CBS and NBC. Television specials for BBC in London and Copenhagen, Denmark. Theme for Bill Cosby's last TV show, A french film 'Des Femmes Disparaissent" (Paris).
He has written music for national radio and television spots for some of the major advertising agencies in the country. Some of these commercials were for: Borateem, Canada Dry, Carnation, Chevrolet, Chrysler, Clorox, Dodge, General Telephone, Gillette, Heinz Foods, Jack in The Box, Liquid Plum'r, MacDonald's, Mattel Toys, Monsanto, Nissan, Ohrbachs, Ore-Ida Frozen Potatoes, Parliament Cigarettes, Pepsi Cola, Texaco.
Benny Golson has absolute mastery of the jazz medium. He has not only blazed a trail in the world of jazz but is passionate about teaching jazz to young and old alike. He has lectured at the Lincoln Center through a special series by Wynton Marsalis. He has lectured to doctoral candidates at New York University and to the faculty at National University at San Diego.
Honored with doctorates from William Paterson College, Wayne, NJ and Berklee School of Music, Boston, MA, Dr. Golson has also conducted workshops and clinics at:
Appalachian University, Boone, NC
Berklee School fo Music, Boston, MA
Eastman School of Music, Rochester, NY
Howard University, Washington, DC
Julliard School of Music, New York, NY
Manhattan School of Music, New York, NY
New England Conservatory
Paris Conservatory, Paris, France
Rutgers University, New Orleans, LA
Stanford University, Stanford, CA
University of Denver, Denver, CO
University of Idaho, Moscow, ID
University of Pittsburgh, Pittsburgh, PA
Lawrence University Conservatory of Music, Appleton, WI
William Paterson College, Wayne, NJ
Golson's musical odyssey has taken him around the world. In 1987 he was sent by the US State Department on a cultural tour of Southeast Asia, New Zealand, Indonesia, Malaysia, Burma, Singapore. Later, Philip Morris International sent him on an assignment to Bangkok, Thailand to write music for the Bangkok Symphony Orchestra.
A live performer who consistently knocks audiences off their feet, Benny Golson has given hundreds of performances in the USA, Europe, South America, the Far East and Japan for decades.
Benny is also working on a major college textbook and his autobiography.
This humble musical giant continues to impress critics, fans and fellow musicians with his prodigious contributions to the world of jazz.