Bessie Smith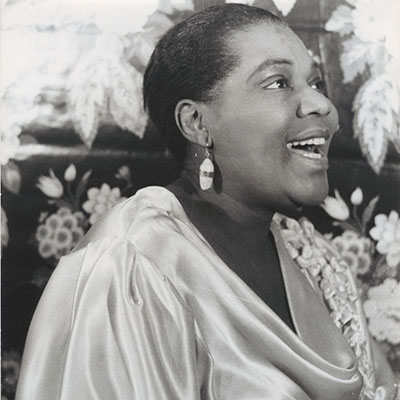 Inducted: 1987
The first major blues and jazz singer on record and one of the most powerful of all time, Bessie Smith rightly earned the title of "The Empress of the Blues." Even on her first records in 1923, her passionate voice overcame the primitive recording quality of the day and still communicates easily to today's listeners (which is not true of any other singer from that early period). At a time when the blues were in and most vocalists (particularly vaudevillians) were being dubbed "blues singers," Bessie Smith simply had no competition.
Back in 1912, Bessie Smith sang in the same show as Ma Rainey, who took her under her wing and coached her. Although Rainey would achieve a measure of fame throughout her career, she was soon surpassed by her protégée. She perfected her powerful delivery in the cabarets of Philadelphia and Atlantic City where she was a frequent attraction. In 1920, Smith had her own show in Atlantic City and, in 1923, she moved to New York. She was soon signed by Columbia and her first recording (Alberta Hunter's "Downhearted Blues") made her famous. Bessie Smith worked and recorded steadily throughout the decade, using many top musicians as sidemen on sessions including Louis Armstrong, Joe Smith (her favorite cornetist), James P. Johnson, and Charlie Green. Her summer tent show Harlem Frolics was a big success during 1925-1927, and Mississippi Days in 1928 kept the momentum going.
However, by 1929 the blues were out-of-fashion and Bessie Smith's career was declining despite being at the peak of her powers (and still only 35). She appeared in St. Louis Blues that year (a low-budget movie short that contains the only footage of her), but her hit recording of "Nobody Knows You When You're Down and Out" predicted her leaner Depression years. Although she was dropped by Columbia in 1931 and made her final recordings on a four-song session in 1933, Bessie Smith kept on working. She played the Apollo in 1935 and substituted for Billie Holiday in the show Stars Over Broadway. The chances are very good that she would have made a comeback, starting with a Carnegie Hall appearance at John Hammond's upcoming From Spirituals to Swing concert, but she was killed in a car crash in Mississippi in 1937. At her funeral in Philadelphia, the crowd of mourners outside at 21st and Christian Streets was estimated at 7,000. Smith's grave remained unmarked for over 30 years in Mount Lawn Cemetery in Sharon Hill, PA.. Janis Joplin and Juanita Green, a woman who had worked for Smith, paid for a headstone, which was unveiled in August 1970, and read "The Greatest Blues Singer in the World Will Never Stop Singing."
Columbia has reissued all of Smith's recordings, first in five two-LP sets and more recently on five two-CD box sets that also contain her five alternate takes, the soundtrack of St. Louis Blues, and an interview with her niece Ruby Smith. "The Empress of the Blues," based on her recordings, will never have to abdicate her throne.
Scott Yanow, All Music Guide (allmusic.com)