Bobby Rydell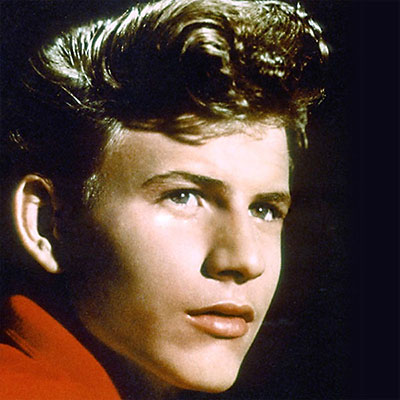 Inducted: 1987
At the age of four or five, Bobby Rydell used to sit in front of the TV set trying to impersonate performers like Louis Prima, Milton Berle, and Johnny Ray. His father recognized Bobby's talent and encouraged him to pursue a show business career. At the age of six, Bobby began playing drums because he admired Gene Krupa. By age seven, he had begun to work night clubs in Philadelphia. Two years later, Rydell entered bandleader Paul Whiteman's amateur show, broadcast from Philadelphia, and won first place. He then became a regular on the show and performed on it for three years. It was during this time that Paul Whiteman changed Bobby's last name to Rydell, because he had trouble pronouncing Ridarelli.
At around sixteen, Bobby started playing drums with various local groups, eventually winding up with Rocco and the Saints, the group in which Frankie Avalon had been playing trumpet. While playing with the band, Bobby was led to a small independent record company in Philadelphia called Cameo/Parkway Records, where Bernie Lowe signed him to a recording contract. In the summer of 1959 he recorded "Kissin' Time," which launched his career. In 1961, he appeared at the Copacabana in New York, and was a hit. Since that time he has starred in the movie Bye, Bye, Birdie, and scored with an array of hit records (34 Top 40 hits), including "We Got Love," "Wild One," "Volare," "Sway," and "Wildwood Days". Rydell has made numerous TV appearances on everything from The Jack Benny Show to The Facts of Life.
Bobby Rydell is still one of the most sought after concert and nightclub acts in the country, and he continues to perform all over the world. He also tours with "The Golden Boys", with his fellow Philadelphia teen idols Frankie Avalon and Fabian.