Boyz II Men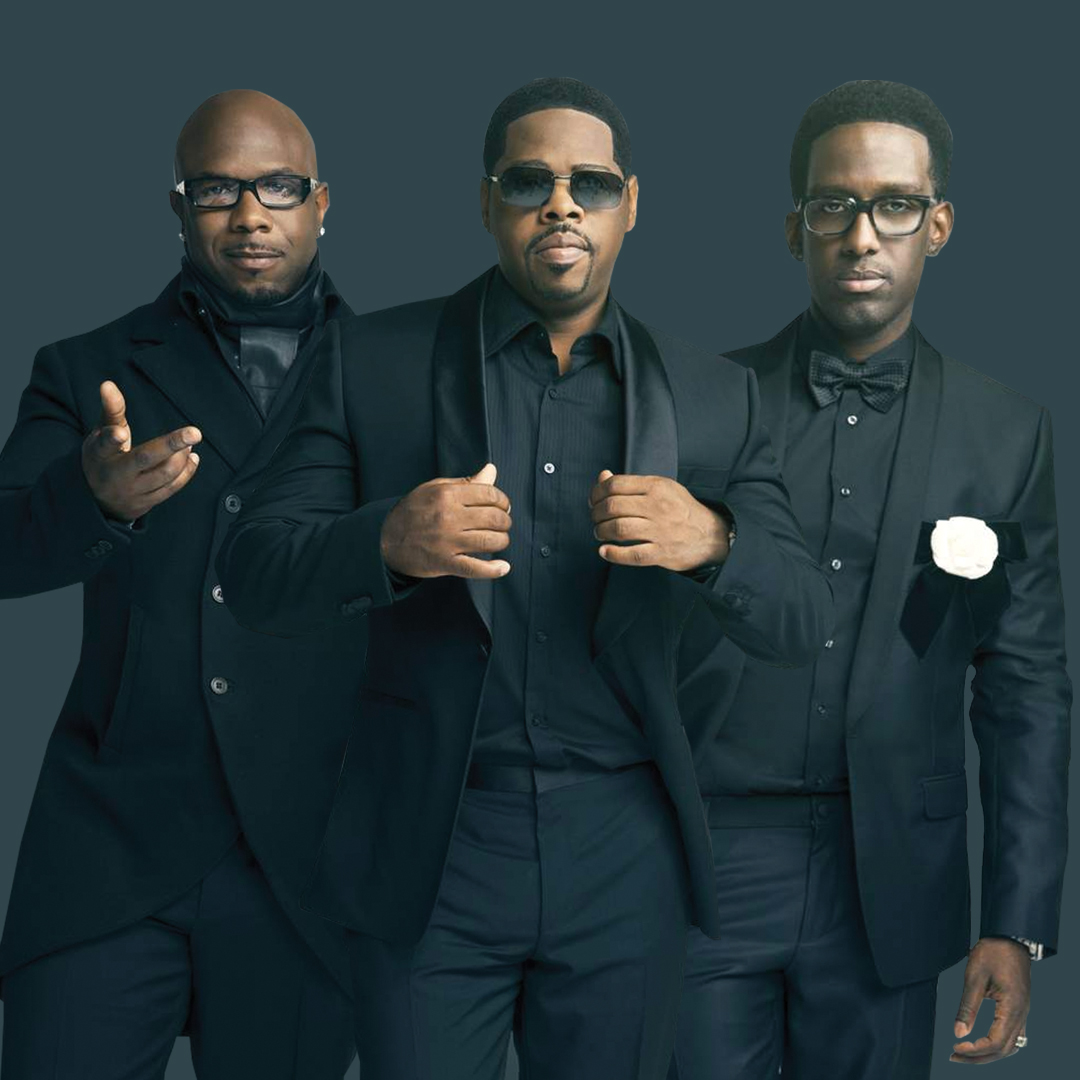 Inducted: 1996
According to no less an authority than the RIAA, Boyz II Men are the most commercially successful R&B group of all time. They've sold ludicrous numbers of records and been involved in three of the longest-running number-one pop singles in history, and they've done it as a unit of equals. In fact, their four-part harmonies blend so smoothly that most of the general public would be hard pressed to name any of the group's individual members. And that's no reflection on their skill as singers; Boyz II Men were among the first male urban soul artists to adopt the sort of hyper-technical melodic embellishments that were popularized by virtuosic divas like Whitney Houston and Mariah Carey. Their early music was indebted to new jack swing, but the group quickly found their fortè in lush, soulful ballads, where their harmonies could be showcased to greatest effect. Boyz II Men may never duplicate their incredible run of success during the first half of the '90s, but that's a near-impossible task for anyone, even with the broad-based appeal of their clean-cut romantic image.
Boyz II Men were formed in 1988 at Philadelphia's High School of the Creative and Performing Arts. Founding members Nathan Morris and Marc Nelson had been singing together for several years, but had trouble keeping a group together simply due to members graduating. Things finally stabilized when they hooked up with Wanya Morris, Shawn Stockman, and bass vocalist Michael McCary; calling themselves Unique Attraction, the quintet performed a well-received Valentine's Day show for their school, and developed a repertoire that leaned heavily on New Edition songs (one of which, "Boys to Men," gave them their name). Their big break came in 1989, when they snuck backstage at a Bell Biv DeVoe concert and wowed group member Michael Bivins (also formerly of New Edition, and a budding music entrepreneur) with an a cappella version of New Edition's "Can You Stand the Rain." Bivins offered them a deal right there, but Nelson would not stick around to be part of it; personality conflicts led to his departure soon after (he later resurfaced as a member of Az Yet).
Down to a quartet, Boyz II Men entered the studio to record their debut album, Cooleyhighharmony, for the legendary Motown Records. Backed by the new jack production then in vogue, they dubbed their sound "hip-hop doo wop," though as a vocal-harmony group they were more indebted to R&B of the '60s and '70s. Cooleyhighharmony was released in 1991, and its first single, the uptempo dance track "Motownphilly," rocketed up the charts, going Top Five pop and number one R&B on its way to platinum sales. The a cappella ballad "It's So Hard to Say Goodbye to Yesterday," a cover of a song from the film Cooley High, also hit the pop Top Five and topped the R&B charts, and went gold. Meanwhile, the album won a Grammy for Best R&B Vocal Performance by a Duo or Group. Boyz II Men joined MC Hammer's Too Legit to Quit tour in 1992, but tragedy struck when tour manager Khalil Roundtree was shot and killed in Chicago; the group rededicated "It's So Hard to Say Goodbye to Yesterday" to him.
The tragedy notwithstanding, Boyz II Men had had an extremely auspicious beginning to their career. Still, nothing could have foreshadowed the group's Midas touch over the next few years. Briefly entering the studio in between concert gigs, Boyz II Men cut a smooth Babyface ballad called "End of the Road" for the soundtrack of the Eddie Murphy film Boomerang. Released as a single, it became not just a blockbuster, but one of the biggest hits in history; it spent 13 weeks at number one on the pop charts, an incredible run that broke the record of 11 weeks Elvis Presley had held ever since 1956 with the double-sided single "Don't Be Cruel"/"Hound Dog." "End of the Road" won a slew of awards and cemented Boyz II Men's star status beyond any doubt; while crafting their next album during 1993, the group released a couple of placeholders: a Top Five cover of the Five Satins doo wop classic "In the Still of the Nite," from the TV-movie The Jacksons: An American Dream, and the holiday album Christmas Interpretations. (Also that year, Whitney Houston's "I Will Always Love You" broke "End of the Road"'s record with 14 weeks at number one.)
The post-"End of the Road" buzz helped make Boyz II Men's next album, II, an instant smash when it arrived in 1994, even though it didn't include "End of the Road." Produced by the likes of Babyface and Jimmy Jam & Terry Lewis, rather than Bivins (who wanted to concentrate on developing new artists), II debuted at number one on its way to sales of over 12-million copies. The first single, "I'll Make Love to You" (also penned by Babyface), raced up the charts and wound up tying Houston's short-lived record, with 14 weeks of its own at number one – a staggering feat in itself, made all the more amazing by the fact that the group had already set the record once. Moreover, the follow-up single "On Bended Knee" actually replaced "I'll Make Love to You" at number one for a six-week run of its own; only Elvis and the Beatles had ever replaced themselves at number one. "Thank You" was a relative flop, not quite making the pop Top 20, but "Water Runs Dry" returned them to the Top Five, falling one slot short of number one. Boyz II Men spent much of 1995 touring the U.S. and beyond in support of II, and also opened their own recording studio. They spent some time recording collaborations with other artists: Wanya Morris duetted with Brandy on the hit "Brokenhearted," and the whole group sang on Michael Jackson's "History" and LL Cool J's "Hey Lover." The biggest one, however, was a song done with Mariah Carey called "One Sweet Day." Featuring two of the biggest chart powerhouses in the industry, "One Sweet Day" was virtually a guaranteed blockbuster, and it went on to spend 16 weeks at number one on the pop charts, debuting there in December 1995; it was the third such record-setting single of Boyz II Men's career.
Over the group's objections, Motown released a piece of cash-in product titled The Remix Collection in late 1995; in retaliation, Boyz signed a distribution deal with Sony, not Motown, for their new vanity label Stonecreek. It was the beginning of a souring relationship that only worsened upon the release of Boyz II Men's next album, Evolution, in 1997. The record started out strong, debuting at number one and sending "4 Seasons of Loneliness" to the same position on the singles charts; its Top Ten follow-up, "A Song for Mama," gave Boyz II Men their record-setting seventh platinum single. However, Motown was unable to throw its full promotional muscle behind the record (perhaps because of their transition to a new label president), meaning that Evolution didn't have nearly the shelf life of II, selling only two-million copies. It didn't help that critics were less than enthusiastic, questioning the album's title since the music itself was more of the same. The group was also forced to postpone parts of their supporting tour when Wanya Morris developed a benign polyp on his vocal cords. He recovered fully, though, and in early 1999, amid major record-company mergers, the group got their contract transferred from Motown to Universal. For their next album, the group assumed greater control over songwriting and production, handling a greater share of each by themselves. The resulting record, Nathan Michael Shawn Wanya, was released in 2000, and while it received better reviews than Evolution, it continued the group's downward commercial slide, only going gold and producing a smaller-scale hit in "Pass You By." The group subsequently signed with Arista Records. In summer 2002, Boyz II Men kept with their sophisticated approach for the aptly titled release Full Circle.
Steve Huey, All Music Guide (allmusic.com)