Clifford Brown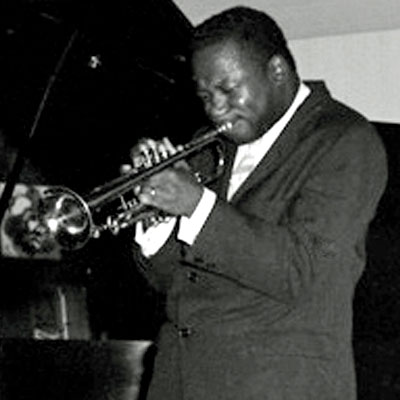 Inducted: 1987
Clifford Brown was one of the 20th century's greatest trumpet players. He represented the highest level of instrumental excellence and influenced a generation of jazz musicians. Dizzy Gillespie called him "the next major voice in the line of trumpeters." As impressive and historically important as his musical accomplishments were, his personal impact on those who knew him is also quite extraordinary. His profound work ethic, personal integrity, kind-hearted nature, and commitment to excellence deeply affected his friends and fellow musicians. Jazz legend Sonny Rollins once remarked "Clifford was a profound influence on my personal life. He showed me that it was possible to live a good, clean life and still be a good jazz musician."
PHILADELPHIA CONNECTION
Clifford Brown was born and raised at 1013 Poplar Street in Wilmington, Delaware. As a young developing musician he was very active on the Philadelphia music scene, playing many engagements at Philadelphia clubs such as Peps. Show Boat, The Blue Note, Club Harlem, and at the jam sessions held regularly at Elks Lodges such as O.V.Catto Lodge at 16th and Fitzwater. After forming the Clifford Brown – Max Roach Quintet in Los Angeles in 1954, Clifford returned to Philadelphia where he and his wife LaRue purchased a home at 4624 Sansom Street. He lived there until his death in an automobile accident on the Pennsylvania Turnpike in the early morning hours of June 27, 1956.
BIOGRAPHY
Clifford Brown – trumpet, composer, recording artist, bandleader
Born: October 30, 1930 | Died: June 27, 1956
Clifford Brown is considered by many musicians and scholars to be the most brilliant trumpet player of his generation, a dynamic stage presence and a true legend of modern jazz.
Clifford Brown was born October 30, 1930 in Wilmington, Delaware. As a young Howard High School student Brown began playing trumpet and within a very short time was active in school bands and other musical groups led by his jazz instructor Boysie Lowery. By his late teens he had attracted the favorable attention of leading jazzmen, including fellow trumpeters Dizzy Gillespie, Miles Davis and Fats Navarro.
In 1949 he entered Delaware State College as a math major but soon transferred to Maryland State College to play in the jazz band there. In 1952, following recovery from a serious automobile accident, he made his first records with Chris Powell and the Five Blue Flames, a rhythm and blues group. In June of 1953 he began his jazz recording career making albums with Lou Donaldson, Tadd Dameron, and Jay Jay Johnson. In the autumn of 1953 he was a member of the big band that Lionel Hampton took to Europe. Liberally filled with young talent, this band attracted considerable attention during its tour. Contrary Hampton's policy, many of the young musicians moonlighted on various recordings and Brown in particular was singled out for such sessions. Brown then joined Art Blakey and in mid-1954 teamed up with Max Roach to form the Clifford Brown-Max Roach Quintet. The quintet was quickly recognized as one of the outstanding groups in contemporary jazz and Brown as a major trumpeter and composer.
At a time when many modern jazz trumpeters sought technical expertise at the expense of tone, Brown, like his major influence Fats Navarro, had prodigious technique but also developed a rich, full and beautiful tone. His work combined a highly intellectual mastery of the contemporary bebop language with deeply emotional content.
Many of his compositions became standards, including "Daahoud", "Joy Spring", and "Sandu". His recorded solos on "Cherokee" and "Donna Lee" are considered by many to be the definitive recorded versions of these pieces.
In the early morning hours of June 27th, 1956, while driving to Chicago for an engagement at The Blue Note, Brown and another quintet member, pianist Richie Powell, and Powell's wife Nancy, were killed in an auto accident on the Pennsylvania Turnpike. Clifford Brown was twenty-five years old.
After Brown's death, Benny Golson composed "I Remember Clifford," a moving tribute to the young trumpeter. It has become a jazz standard.
Two comprehensive biographical works about Clifford Brown have been completed: Clifford Brown: The Life and Art of the Legendary Jazz Trumpeter by Nick Catalano, Oxford University Press (2000); and Brownie Speaks: A Video Documentary, directed by Don Glanden, which premiered in 2008 at The University of the Arts.
QUOTES ABOUT CLIFFORD
I loved Clifford. Some people called him Brownie, but I called him Pogo after a cartoon character from a newspaper comic strip, because he was little and cool, and he wore this funny Pogo hat. He was the sweetest, humblest, most intelligent cat in the world and the greatest trumpet player I've ever known.
– Quincy Jones
Now, I knew that among all the younger players, Clifford was head and
shoulders above the rest, at least in my opinion he was. – Miles Davis
You can easily trace how the crown was passed down – and sometimes usurped. On trumpet, for example, the order might run something like this: Buddy Bolden, Joe Oliver, Louis Armstrong, Bix Beiderbecke, Cootie Williams, Roy Eldridge, Ray Nance, Dizzy Gillespie, Clark Terry, Clifford Brown, Miles Davis … Similar sequences of highly influential musicians, each with popular imitators, can be made for all the other instruments. – Duke Ellington
And to this day I don't think anyone has had the impact of Clifford Brown. In my opinion no one has played as great.
– Red Rodney
I can get publicity until I'm a hundred. That's not gonna make me be on the level with cats like Miles or Clifford … – Wynton Marsalis
It was bebop, the style that was created by Charlie Parker, everybody got into that. But as it went along, the sound changed through the way that Clifford Brown played. He used to attack every note, and all the trumpet players are playin' like that now. – Dizzy Gillespie
What set him apart from his contemporaries was his sound … of all the so-called modern trumpet players, post-Gillespie players, he had the most beautiful sound. – Dan Morgenstern
At the places where people talk about jazz they are saying he was one of the "greats" of the modern school of jazzmen. And it's not just a glory enhanced by death. They were saying it three years ago when Cliff came to Europe with the Lionel Hampton band.
– Mike Nevard, Melody Maker
When he started to play something happened to me that never happened before or since … when he started to play these tones came out and they hit me in the face and it was like something you could put your hands on and feel and hold … I'll never forget that afternoon at the Blue note in Philadelphia. – Benny Golson
Nicknamed Brownie, Charlie Parker found [him] during his last visit to Philly. Since his return to New York, "Bird" could not stop talking [about] this young trumpeter that he came to discover. – Billy Washington, Jazz Magazine
He was definitely the next major voice in the line of trumpeters.
– Dizzy Gillespie
All Brown is valuable, it should go without saying, because his brief four years of productivity influenced the development of modern trumpet more than any other of his contemporaries or successors… – Litweiler, Downbeat
Clifford Brown, and I use a word when I think about him that I don't use very often, I really don't … Clifford Brown was a genius. He really was. He evidenced it in his music. He was an innovator. He was ahead of his time. He didn't follow anybody, he lead. – Benny Golson
He's what I would want to have as a son. If I had a son, I would want him to be like Clifford. – Dizzy Gillespie
Clifford was a profound influence on my personal life. He showed me that it was possible to live a good, clean life and still be a good jazz musician. – Sonny Rollins