Dave Appell and Kal Mann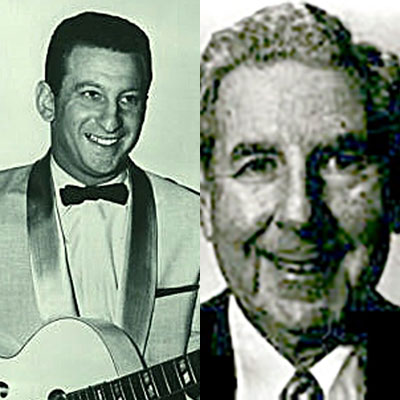 Inducted: 1989
Kal Mann b. May 6, 1917 d. November 28, 2001
Dave Appell b. March 24, 1922
Dave Appell started arranging for big bands in the mid 1940's, including Benny Carter and Earl "Fatha" Hines. Appell formed a group called Dave Appell and the Applejacks who had several instrumental hits in the late '50s, starting with "Mexican Hat Rock" in 1958. Appell went on to become the Music Director on the "Ernie Kovacs Show" in Philadelphia. In 1958, Kal Mann and Dave Appell met at Cameo/Parkway Records in Philadelphia. There they produced many records and collaborated on such hits as "Let's Twist Again" and "The Twist" (Chubby Checker); "Bristol Stomp" (Dovells); and "South Street" (Orlons).
Kal Mann began his career in the 1940's and 50's as a comedy writer for Danny Thomas, Red Buttons and Jack Leonard. In the late 1950's, Bernie Lowe, co-founder with Mann of Cameo/Parkway Records, convinced Mann that if he could write comic parodies, he could write lyrics – which resulted in hit songs for Elvis Presley, Nat King Cole, Andy Williams, and Pat Boone.
Kal Mann
Kal Mann, 84, a Philadelphian who wrote the words to songs that formed the foundation of a golden era in Philadelphia music, died Wednesday of Alzheimer's disease at this home in Pompano Beach, Fla.
In collaboration with composer Dave Appell, Mr. Mann wrote such songs as "South Street," "Let's Twist Again, "Bristol Stomp," "Wild One" and "Wah-Watusi" for legendary Cameo-Parkway Records in South Philadelphia, cofounded in 1956 by Mr. Mann and Bernie Lowe. Those songs were recorded by entertainers who became household names in no small part because of them: the Orlons, Dee Dee Sharp, and Bobby Rydell, to name a few.
"Kal Mann was responsible for the dance crazes of the late '50s and early '60s that swept the Philadelphia region and wound up becoming the rage nationally through Dick Clark and American Bandstand," said Jerry Blavat.
Mr. Mann, a native of West Philadelphia whose real name was Kalman Cohen, began writing lyrics at a time when baby boomers were buying their first tubes of Clearasil. They formed a huge market, and the loved rock and roll.
"Kal Mann was in the right place at the right time with the right talent," said Kal Rudman, publisher of the Cherry Hill-based radio- and record-industry publication Friday Morning Quarterback. "He is an absolute icon of the industry. He had a run of hit songs equal to anybody's."
He began his career in the 1940s as a comedy writer for Danny Thomas, Red Buttons and Jack Leonard. In the late 1950s, Lowe convinced Mr. Mann that if he could write comic parodies, he could write lyrics. So he did, and among the early words he put down were to a song scored by Lowe called "(Let Me Be Your) Teddy Bear." It was recorded by Elvis Presley.
Other hits followed. One of them was the Dovell's 1961 monster "Bristol Stomp." There wasn't a teenager from Bristol to Long Beach, Calif., who didn't try to look sharp as a pistol while heel-slamming on a hardwood dance floor. Mr. Mann dashed off the lyrics to that hit in 45 minutes, after watching teenagers stomping at former Eagle Steve Van Buren's dance hall on Wood Street in Bristol, he said in a 1997 Inquirer interview.
Another was the Orlons' smash "South Street," a top-50 tune for 10 weeks in 1963. Mr. Mann all but invented the word hippie in his lyrics, and "he immortalized South Street," said Hy Lit, a disc jockey at the old Philadelphia powerhouse WIBG-AM who still spins record for WOGL-FM (98.1). "Kal Mann's music was fun, happy-go-lucky. It was dance music."
Mr. Mann's dance songs went national through American Bandstand. An example was the "Wah-Watusi," recorded by the Orlons in 1963.
"Dick Clark wanted dance music because he had a visual TV show," Lit said in a 1994 Inquirer interview. "Everybody was watching this great show out of Philly to learn the fancy steps. Once on American Bandstand, it was an automatic hit."
There were many hits, recorded by many artists, but Mr. Mann always will be associated with South Street and Bristol, places he made famous.
"Philadelphia," said Lit, "is a little emptier now.
Rusty Pray, The Philadelphia Inquirer (Kal Man obituary, Nov. 30, 2001)