Dee Dee Sharp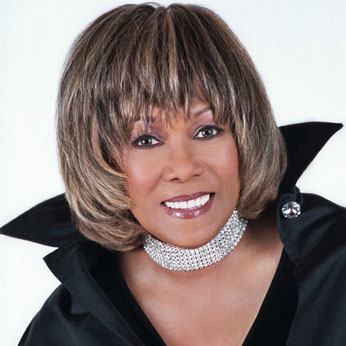 Inducted: 1987
Dee Dee Sharp's first solo release was to become her biggest seller and her signature song throughout a lengthy and notable career. The smash hit was released in 1962 by Philadelphia's Cameo/Parkway label and was titled Mashed Potato Time in reference to an extremely popular dance craze. With its success, the nation's first black female teen idol had arrived.
The popular Philadelphia native had already tasted sweet success earlier in the same year. A top 10 charting duet hit sung with fellow Philadelphian and Twist king Chubby Checker was titled Slow Twistin'. More top 10 hits would follow. Living in the city that was home to Dick Clark's iconic American Bandstand provided an extra boost for her career. She appeared on the teen dance show numerous times ensuring mass promotion for her releases. Furthermore Dee Dee Sharp also became a fixture on Clark's Caravan of Stars tours, and a familiar face in the popular 16 Magazine.
Born Dione LaRue on September 9, 1945, she played piano from an early age, and directed choirs at her grandfather's and other churches. Due to her mother's health problems, she gained employment as a background singer and developed the skills to work on sessions by Lloyd Price, Frankie Avalon, Fabian, Bobby Rydell, Jackie Wilson, and Chubby Checker. At 17 with guidance from producers Kal Mann and Bernie Lowe, Dione LaRue was an overnight sensation. The name Dee Dee Sharp was created since everyone called her D and she sang in the musical key of D sharp. Promoted as a pop singer she didn't see much of the "chitlin' circuit". In keeping with her mainstream image, her label also sent her to modeling and charm school.
Sharp and Checker hooked up and recorded an album together entitled Down to Earth, one of nine LPs that Cameo issued on Sharp. Next she signed to Atco/Atlantic Records. Her soon-to-be husband Kenny Gamble and his creative partner Leon Huff signed at this time as well, prior to the eventual birth of Gamble Records. Dee Dee would record for this label and the future legendary Philadelphia International Records (PIR).
Besides her many television spots, she appeared in films including Desperately Seeking Susan, Don't Knock the Twist, Hairspray, Sister Act, and Troop Beverly Hills. Sharp remarried and has enjoyed a fruitful career.
Special thanks to Andrew Hamilton, All Music Guide