Dick Clark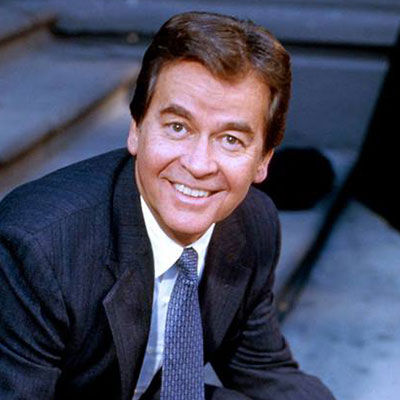 Inducted: 1987
Nicknamed "America's Oldest Living Teenager," Dick Clark's smooth charm and eternally youthful appearance made him one of America's best-known television personalities for decades. Still, Clark would never have achieved his amazing career longevity if he hadn't also been a remarkably astute businessman; whether he was producing television shows or spotlighting music and dance on his legendary show American Bandstand, Clark was a keenly perceptive trend-spotter with a sure feeling for the sort of mainstream entertainment the American public preferred. As a rock & roll figure, Clark played a major role in pushing the music toward respectability – for better and worse. The clean-cut production values of American Bandstand, supported by Clark's own persona, made rock & roll (not to mention racially integrated dancing) seem less threatening to many adults, and provided significant national exposure for countless artists. On the other hand, Clark – surprisingly, never a tremendous rock & roll fan himself – also helped tame the wildness of early rock & roll by favoring more straight pop and teen-idol fare, sending the music into a doldrums only salvaged by the British Invasion. In the long run, though, Clark's contributions far outweighed that aesthetic sin, and both he and American Bandstand became American institutions.
Richard Wagstaff Clark was born on November 30, 1929, and grew up in Mt. Vernon, New York. He became interested in the radio business as a teenager, and worked in the mailroom of the AM station his uncle and father helped run; when the FM weatherman went on vacation, Clark began filling in for him, and soon read news reports during station breaks as well. Clark went on to study advertising and radio at Syracuse University, and after working at a couple different radio stations, he landed a job as a television broadcaster in Utica, New York, doing the news and hosting a country music program. In 1952, he was hired at Philadelphia's WFIL, which broadcast both radio and television. Working as a radio DJ at first, Clark began filling in on the television side for regular host Bob Horn on an afternoon teen dance program called Bandstand. Following Horn's arrest for drunk driving in 1956, Clark took over the show permanently, and Bandstand quickly became one of the most popular local programs in Philadelphia. ABC picked up the show on a national basis in 1957, and re-titled American Bandstand, it became not only the first network TV show devoted to rock music, but a staple of their after-school lineup.
Clark was a fast-rising star thanks to American Bandstand, and even landed his own ABC variety show within a year. While he wasn't a rock & roll expert, he paid close attention to the Philadelphia teens who appeared on the program, especially their favorite records and dances. At the same time, he required a more formalized dress code (no pants or tight tops for girls, coats and ties for boys) that kept the look of the show as wholesome as Clark himself seemed. That air of respectability muted the potential risk of including black teenagers among the dancers, a move made very early on. With such broad appeal, American Bandstand became an influential arbiter of teenage style, and its popularity could provide huge sales boosts for songs featured (or lip-synched by their performers) on the show. And, in fact, Clark capitalized on it – he invested in several Philly-area record labels, record pressing plants, and music publishing companies, and songs connected to those ventures were often featured on American Bandstand. In today's era of corporate cross-promotion, those marketing tactics might have been tabbed "synergistic," but they came off a bit shadier in the era of payola scandals. Clark was called to testify at the Congressional payola hearings of 1959, but was reprimanded only for having accepted expensive gifts from a record company president on one occasion; no evidence of illegality was presented in regard to his business ventures. Even so, ABC asked Clark to sell off his interests to avoid any appearance of wrongdoing, and he complied. Shrewdly, though, Clark wound up retaining the rights to individual American Bandstand episodes, which eventually gave him an enormous and valuable library of footage.
American Bandstand ran on weekdays through 1963, at which point ABC switched to a once-weekly broadcast on Saturdays. The following year, Clark moved the show from Philadelphia to Los Angeles, and also moved his production company there to promote concerts and develop television shows. In 1972, he hosted the first Dick Clark's New Year's Rockin' Eve special from Times Square, which made him a New Year's institution, and the following year, he hit upon his first successful game-show venture with The $10,000 Pyramid. Best known as The $25,000 Pyramid, it eventually grew into The $100,000 Pyramid, neatly encapsulating the rise of inflation during its 1973-1989 run on CBS, ABC, and syndication. Then, in 1974, Clark founded the American Music Awards, which were designed to compete with what Clark felt was an increasingly stuffy and out-of-touch Grammy ceremony. During the '80s, Clark co-hosted a series of specials with Ed McMahon called TV's Bloopers and Practical Jokes, which mixed outtakes from popular shows with filmed practical jokes on everyday people; the specials even became a regular series for a short time. In 1987, ABC decided to cut American Bandstand from 60 minutes to 30, and Clark declined, taking the show into syndication. After about a year and a half, American Bandstand found a home on the USA cable network, at which point Clark retired as the host; the show didn't last past the end of 1989 without him, but by that point, it had already become the longest-running music show in American television history.
During the '80s and '90s, in addition to various one-off hosting gigs and cameo appearances, Clark continued to host the American Music Awards and New Year's Rockin' Eve, and served as the executive producer of numerous TV-movies and series. In 2001, Clark joined NBC for The Other Half, a male-hosted talk show geared towards women that also featured Saved by the Bell's Mario Lopez and Partridge Family bad boy Danny Bonaduce.
But of all Dick Clark's achievements, none will be better remembered than "American Bandstand," where Clark played more than 55,000 records, introduced 10,000 musical guest appearances who entertained more than 60,000 young dancers in the studio, and countless millions across the country and around the world.
Steve Huey, All Music Guide (allmusic.com)