DJ Jazzy Jeff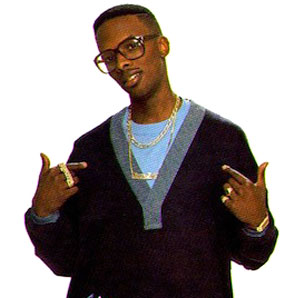 Inducted: 2000
He's the DJ of Philadelphia's own DJ Jazzy Jeff and the Fresh Prince, the first rap group to make it big from Philadelphia. Born Jeffrey Townes, he met his partner, recording, TV and movie star Will Smith, when the two performed together at a house party in Philadelphia in 1986. Later that year, they performed at the New Music Seminar, where Jeff placed first in the DJ competition. This attention helped them land a recording contract with Jive.
The first major label release by DJ Jazzy Jeff and the Fresh Prince, Rock the House, was certified Gold in 1988 and their follow-up, He's the DJ, I'm the Rapper, sold over 2.5 million copies and its first single, "Parents Just Don't Understand," netted the duo a GRAMMY® Award. Their next two albums, 1989's And in This Corner and 1991's Homebase went Gold and Platinum respectively. They also won a second GRAMMY in 1991 for the single "Summertime," which reached #4 on the Billboard Hot 100 chart.
In 1990 Jeff founded a recording studio in Philadelphia aptly called A Touch of Jazz. "I want to take what Mr. Gamble and Mr. Huff did in the 70's and continue the progression of the Philly Sound," he explains. A Touch of Jazz has worked with Will Smith, Kenny Latimore, Dave Hollister, Lil Kim, Musiq Soulchild, City High, Bilal, Glenn Lewis, and many more. A Touch of Jazz was also responsible for Jill Scott's GRAMMY-nominated debut Who Is Jill Scott and the smash single "Butterfly" from Michael Jackson's Invincible. The production house also created the theme to Will Smith's career-launching TV series, "The Fresh Prince of Bel Air," a song on The Simpsons compilation album, the theme to UPN's "Between Brothers," and songs on the soundtracks of Wild Wild West, Love Jones, The Wood, and In Too Deep. Jeff continues to work with Will; he produced most of the tracks on the multi-Platinum international smash, Willenium. Jeff released his first solo album in 2002, called Magnificent (BBE), which features Philadelphia artists, including Shawn Stockman (from Boyz II Men), Jill Scott, Pauly Yamz and Baby Blak.