Eddie Fisher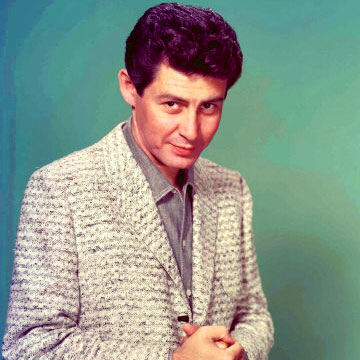 Inducted: 1988
One of the most popular male vocalists of the early '50s despite a throwback style that recalled Al Jolson and Tin Pan Alley, Eddie Fisher scored four number one hits between 1952 and 1954 but is probably known best for his celebrity circles – his wives included Debbie Reynolds, Elizabeth Taylor and Connie Stevens.
Born in Philadelphia, Fisher began singing at an early age and made his first radio appearance while still in high school, singing with Buddy Morrow and Charlie Ventura. While working the borscht belt in upstate New York, he met Eddie Cantor and appeared on his highly rated radio show during 1949. The exposure naturally led to a recording contract; his first few singles for RCA, including "Thinking of You" and "Turn Back the Hands of Time," spent time near the top of the chart.
Two consecutive million-sellers, 1952's "Any Time" and "Tell Me Why," really made Eddie Fisher's reputation as a major attraction. After one more big hit ("Wish You Were Here") that year, he scored with the biggest year of his career in 1953; both "I'm Walking Behind You" and "Oh! My Pa-Pa" spent many weeks at the top of the charts. Fisher then gained his own top-rated television programs, Coke Time and The Chesterfield Supper Club. His success continued apace in 1954 with "I Need You Now," and he starred in his first movie, Bundle of Joy, in 1956 – co-billed with his first wife, Debbie Reynolds. His second film, 1960's Butterfield 8, teamed him with Elizabeth Taylor, whom he married soon after. The blitz of media publicity over the woman who lured him away from his wife boosted the public exposure of all three stars. Still, he never entered the Top 40 after 1956.
His live album, 1963's Eddie Fisher at the Winter Garden, was recorded for his own Ramrod label. A return to RCA in the mid-'60s yielded a moderate hit with the LP Games That Lovers Play. After two more RCA albums, People Like You and You Ain't Heard Nothin' Yet, Fisher rarely recorded during the rest of his career, though he continued to perform around America.
John Bush, All Music Guide (allmusic.com)