Eugene Ormandy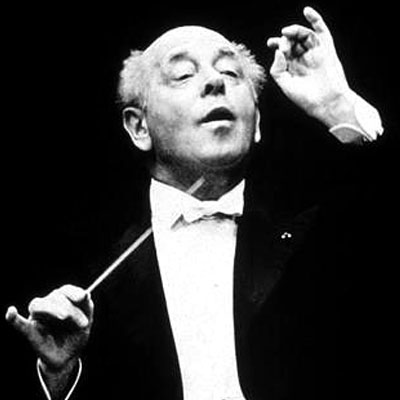 Inducted: 1988
Longtime Philadelphia Orchestra conductor Eugene Ormandy developed what came to be known as the "Philadelphia Sound." (He groused that it should be called the "Ormandy Sound," even though its fundamentals had already been established during Leopold Stokowski's long tenure with the Philadelphia Orchestra.) Largely as an effort to overcome the dry acoustics of the orchestra's home, the Academy of Music, Ormandy emphasized lush string sonorities and, often, legato phrasing and rounded tone. He was lauded even by his own musicians for his ability to conduct everything from memory, even complex contemporary scores. Still, aside from the voluptuous tone, Ormandy's interpretations rarely bore an individual stamp. They were, however, highly polished, intelligently balanced, and well paced, always serving the scores honorably, and often with a dash of controlled excitement.
Ormandy initially studied violin with his father, and entered Budapest's Royal Academy of Music at age five, falling under the tutelage of Jenő Hubay at nine. He had his master's degree at age 14, and received an artist's diploma at age 16 as a violinist, at which time he also received a degree in philosophy from Budapest University. He toured as a violin prodigy just before the outbreak of World War I and remained a Hungarian national during the war, becoming a professor at the Hungarian State Conservatory when he was 20 years old. He served as concertmaster of the Bluthner Orchestra in Germany, also giving recitals and performing as a concerto soloist.
He moved to the United States in 1921 (taking citizenship in 1927), lured by the promise of a lucrative concert tour. That tour fell through, though, and Ormandy was forced to make ends meet by taking a job with the Capitol Theater Orchestra in New York City, accompanying silent films. Ormandy soon advanced to the position of concertmaster, and made his conducting debut there in September 1924 when the regular conductor fell ill. By 1926 he was named the orchestra's associate music director, and made extra money conducting light classics on the radio. Important debuts soon followed: he conducted the New York Philharmonic at Lewisohn Stadium in 1929, and the following year became guest conductor of the Robin Hood Dell Orchestra in Philadelphia. On Oct. 30, 1931, came his first performance with the Philadelphia Orchestra.
The following year he was engaged as music director of the Minneapolis Symphony, with which he made several recordings, but he didn't remain long in the Midwest. In 1936 the Philadelphia Orchestra called him back as associate conductor, to share baton duties with Leopold Stokowski, who was being eased out. Ormandy became the orchestra's music director in the autumn of 1938, and held that position for forty-two years, until his retirement at the end of the 1979-80 season (whereupon he was named Conductor Laureate). He led the Philadelphia Orchestra on several national and international tours, including, in 1973, the first appearance of an American symphony orchestra in the People's Republic of China. Ormandy was knighted in 1976 – Queen Elizabeth II's way of observing the American bicentennial.
Ormandy was always a proficient, well-prepared conductor, but he was most comfortable in Romantic and post-Romantic music; especially noteworthy were his performances and recordings of Richard Strauss and Sergei Rachmaninov. He established an especially close professional relationship with Rachmaninov in the 1930s, and premiered his Symphonic Dances. Ormandy also led the first performances of many works by American composers, and gave the U.S. premieres of several Shostakovich symphonies, among other works. In 1948 he led the Philadelphia Orchestra in the first symphony concert broadcast on American TV, beating Arturo Toscanini and the NBC Symphony by ninety minutes. Ormandy and the orchestra recorded extensively for Columbia and RCA, especially during the stereo LP era; their discography ranged from the first recording of Shostakovich's thorny Symphony No. 4 to "easy listening" treatments of recent movie music, harking back to his nights in the Capitol Orchestra.
James Reel, All Music Guide (allclassical.com)