Gary Graffman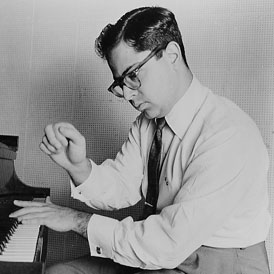 Inducted: 1997
President and Director Gary Graffman's association with The Curtis Institute of Music began when he was accepted as a piano student in 1936, at the age of seven. Exactly 50 years later, in 1986, he was appointed director of this world-renowned conservatory, following such illustrious predecessors as Josef Hofmann, Efrem Zimbalist and Rudolf Serkin.
Gary Graffman was born in New York on October 14, 1928, of Russian parents, and first climbed to the piano bench at the age of three. His violinist father had given him a small fiddle, but the instrument proved too cumbersome and piano lessons were substituted "temporarily." Mr. Graffman began 10 years of study with the renowned Isabelle Vengerova when he entered Curtis, and subsequently worked intensively for several years with Vladimir Horowitz and, in the summers, at the Marlboro Music Festival with Rudolf Serkin.
The academic side of Mr. Graffman's career has developed relatively recently. For most of his life he was exclusively a performer. He made his debut as soloist with the Philadelphia Orchestra and Eugene Ormandy at the age of 18. Two years later he won the Leventritt Award, which launched his career on the international concert circuit.
For the next three decades, Mr. Graffman toured constantly, playing the most demanding works in the piano literature with the world's finest orchestras and in recital. His recordings on the CBS and RCA labels include concertos by Beethoven, Brahms, Chopin, Prokofiev, Rachmaninoff and Tchaikovsky with the orchestras of Boston, Chicago, Cleveland, New York and Philadelphia, and with such conductors as Bernstein, Mehta, Ormandy and Szell.
In 1979 Mr. Graffman's performing career was interrupted by an injury to his right hand. Since then, his concertizing has been limited to the small repertoire of concertos written for the left hand alone. Most of these were composed early in the century for Paul Wittgenstein, who lost his right arm in World War I. In addition to the famous Ravel Concerto, these include major works by Prokofiev, Britten, Richard Strauss, Franz Schmidt and Erich Wolfgang Korngold. Mr. Graffman played the North American premiere of the latter concerto, written in 1924, with Zubin Mehta and the New York Philharmonic in 1985, and he recorded the Strauss Parergon for Deutsche Grammophon with the Vienna Philharmonic and André Previn in 1996.
Mr. Graffman's performing and teaching careers converged in 1993, when he joined conductor André Previn and the Curtis Symphony Orchestra for the world premiere performances of Ned Rorem's Piano Concerto No. 4 for Left Hand. Dedicated to Mr. Graffman by the Pulitzer Prize-winning composer, who is also a Curtis alumnus and faculty member, the Concerto was performed at Philadelphia's Academy of Music and at Carnegie Hall in New York. In 1996, Mr. Graffman and Leon Fleisher performed William Bolcom's Concerto for Two Left Hands.
In the 2001/02 season, he premiered three new works written for him by composers associated with Curtis: in Washington, D.C., with the National Symphony, faculty member Richard Danielpour's Zodiac Variations; with the Buffalo Philharmonic and the New Mexico Symphony, alumnus Daron Hagen's concerto Seven Last Words; and with the Philadelphia Chamber Orchestra, alumnus Luis Prado's Piano Concerto for Left Hand. In February 2003 he performed the premiere of Stanislaw Skrowaczewski's Concerto Nicolé for Piano (Left Hand) and Orchestra, with the composer conducting the Curtis Symphony Orchestra. He subsequently recorded it with the Minnesota Orchestra.
Over the years, Mr. Graffman has cultivated his talents off the concert stage, as well. He joined the Curtis piano faculty in 1980, became the Institute's artistic director in 1986, its director in 1989 and was named president in 1995. In addition to Curtis, he has wide-ranging interests: He is a scholar and collector of Oriental art, a serious photographer and a popular writer whose articles on non-musical subjects have appeared in such diverse publications as The New York Times and The Village Voice. He is also the author of a highly praised memoir, I Really Should Be Practicing. A recipient of honorary doctorates from the University of Pennsylvania and the Juilliard School, among others, Mr. Graffman was also honored by the City of New York with its Handel Medallion, and in 1991 by the Commonwealth of Pennsylvania as recipient of the Governor's Arts Award, recognizing him for his many and varied accomplishments as well as for his leadership of Curtis.