Harold Melvin & The Blue Notes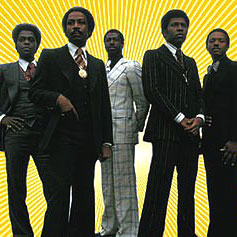 Inducted: 1989
Harold Melvin b. June 25, 1939 d. March 24, 1997
Teddy Pendergrass b. March 26, 1950
Harold Melvin was one of the driving forces behind Philadelphia soul, leading his group the Blue Notes to the top of the charts during their stint on Kenny Gamble and Leon Huff's Philadelphia International label. Despite Melvin's billing out front, the Blue Notes' focal point was lead singer and onetime drummer Teddy Pendergrass, whose surging baritone graced the Blue Notes' recordings during their glory years of 1972-75 and gave them a truly distinctive sound. Their output ranged from sweeping, extended proto-disco dance tracks to silky, smoldering ballads, all wrapped up in Gamble and Huff's lushly orchestrated production. When Pendergrass left for a solo career, Melvin & the Blue Notes continued to record for a time. They never really disbanded, and by the time Melvin passed away in 1997, he'd been leading the Blue Notes for over four decades.
Harold Melvin was born June 25, 1939 in Philadelphia. A self-taught pianist, he began singing doo wop as a teenager with a group called the Charlemagnes, and put together the very first edition of the Blue Notes in 1954. The original lineup was a quintet featuring Melvin as the lead singer, songwriter, arranger, and choreographer; ironically, he would mostly relinquish those duties by the time the group achieved its greatest success. The other members were co-leader Bernard Williams, Roosevelt Brodie, Jesse Gillis Jr., and Franklin Peaker. The Blue Notes cut their first single, "If You Love Me," for Josie in 1956, and turned it into a regional hit. They recorded for several other labels over the next few years, Dot chief among them, before scoring their first R&B chart hit in 1960 with "My Hero" (released on Val-Ue). Numerous personnel shifts kept the group in flux despite steady recording activity, and Bernard Williams split off to lead what he dubbed the Original Blue Notes in the mid-'60s. Melvin assembled a new version of the Blue Notes centered around lead singer John Atkins, who returned the group to the R&B charts in 1965 with the Landa single "Get Out (And Let Me Cry)." Further releases on Arctic, Checker, and Uni followed over the rest of the '60s, as well as more personnel changes. During the late '60s, the group toured often with the Cadillacs, whose young drummer Teddy Pendergrass would prove to be Melvin's greatest discovery.
Pendergrass first joined the Blue Notes' backing band, but demonstrated so much vocal talent that after John Atkins left in 1970, Melvin soon elevated him to the post of lead vocalist. This move helped them land a deal with Gamble and Huff's Philadelphia International label in 1972, just as the company was taking its place as soul music's new epicenter; Pendergrass' voice was similar to that of Dells singer Marvin Junior, whom Gamble & Huff had courted heavily. By this time, the Blue Notes consisted of Melvin, Pendergrass, bass vocalist Lawrence Brown, baritone vocalist Bernard Wilson, and tenor vocalist Lloyd Parks. With Gamble & Huff now supplying top-quality material and production, Harold Melvin & the Blue Notes would become one of the most popular groups in R&B over the next few years. Their self-titled debut mostly featured songs that had been written in anticipation of landing Marvin Junior. The first single, "I Miss You," was a hit on the R&B charts, but their second was a smash – the classic ballad "If You Don't Know Me By Now," which featured an anguished, star-making vocal turn from Pendergrass. "If You Don't Know Me By Now" went all the way to number one R&B, and also became their only Top Five hit on the pop side; it was later covered in 1989 for a number one hit by Simply Red.
The Blue Notes scored again in 1973 with the string-laden dance track "The Love I Lost," credited by many observers as one of the first disco records; it was their second R&B chart-topper and Top Ten pop single. The accompanying album Black and Blue produced another R&B Top Ten in the follow-up "Satisfaction Guaranteed (Or Take Your Love Back)." In 1974, Lloyd Parks was replaced by Jerry Cummings, who debuted on the R&B chart-topping LP To Be True. "Where Are All My Friends" and "Bad Luck" continued their string of Top Ten R&B hits, and a new addition to the group, female vocalist Sharon Paige, helped bring them back to the top of the R&B charts in 1975 with the duet "Hope That We Can Be Together Soon." Another excellent album followed later that year in Wake Up Everybody, whose title track was another R&B number one; "Tell the World How I Feel About 'Cha Baby" also reached the R&B Top Ten, and the album cut "Don't Leave Me This Way" was later covered for a disco smash by Thelma Houston.
However, tension was building within the group. The heavily spotlighted Pendergrass was hungry for separate billing, but Melvin, still the group's chief organizing force, turned him down. In 1976, Pendergrass left the Blue Notes for a solo career that quickly made him one of R&B's top sex symbols. Sharon Paige helped fill his shoes on lead vocals, as well as new male lead David Ebo, whose sound was fairly similar to Pendergrass'. However, Pendergrass' departure also signaled the end of the Blue Notes' relationship with Philadelphia International – their next recordings were for ABC, for whom they hit the R&B Top Ten in 1977 with the title track of Reaching for the World. It would prove to be their last major success, however; after one more album for ABC, they moved to MCA subsidiary Source in 1979 for two LPs that failed to reignite their commercial momentum. Cummings and Wilson had both departed in 1977, replaced by Dwight Johnson and William Spratelly, and Paige and Ebo both left in 1980. Still, Melvin soldiered on, helming one last album of new material for Philly World in 1984's hopefully titled Talk It Up (Tell Everybody). It was mildly popular in the U.K., but not enough to re-establish them. Melvin continued to tour with versions of the Blue Notes steadily into the '90s, and Sharon Paige eventually returned to the fold as well. Sadly, Melvin suffered a stroke and never fully recovered; he passed away on March 24, 1997 in his beloved hometown of Philadelphia.
Steve Huey, All Music Guide (allmusic.com)