Jaco Pastorius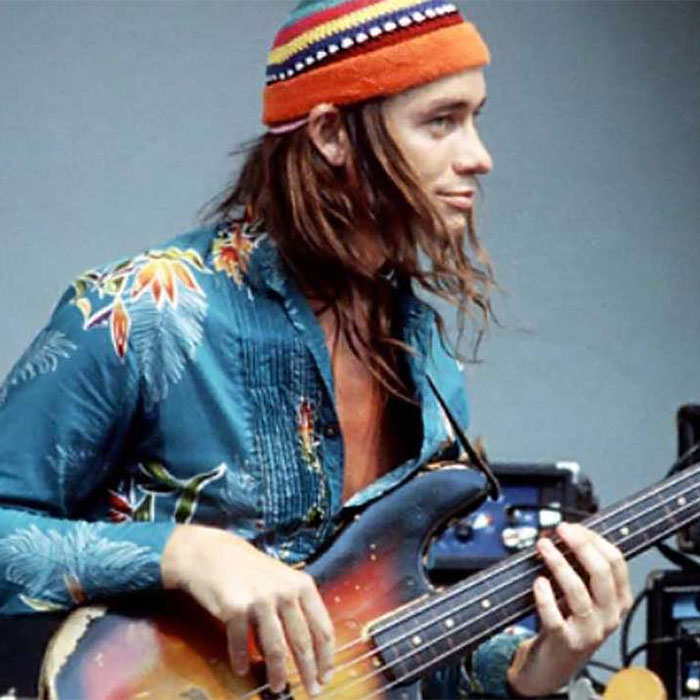 Inducted: 2016
Jaco Pastorius, the man who revolutionized how the bass guitar is played and who is, for many, the best and most influential bass guitarist ever, didn't start his musical life on the instrument. Instead, the man who would be the master of the fretless electric bass was a drummer.
A drummer, just like his dad, Jack Pastorius, a big band player and singer. Jaco was the first of three children born to Jack and his wife, Stephanie. He arrived on Dec. 1, 1951 in Norristown, Pennsylvania, near Philadelphia. John Francis Anthony Pastorius III was quickly given a nickname by his parents – "Jocko," which transformed into "Jaco" in the early 1970s when a French-born musician friend and neighbor, Alex Darqui, spelled it that way by mistake. Jaco liked the alternate spelling, and kept it.
When Jaco was almost eight years old, his family moved to Oakland Park, Florida, near Fort Lauderdale. Jaco was a sweet, competitive kid, who loved to play games, including football. As the son of a musician, he was interested in music, too, and bought a small drum kit with money earned as a newspaper delivery boy. His two interests collided in 1964 during a youth league football practice in which Jaco's wrist was badly injured, so much so that it eventually required corrective surgery. Jaco continued to play drums after that, but it was far more difficult that it had been prior to that hit in practice.
Jaco Becomes a Bassist
Regardless, he got gigs as a drummer, and in 1966, while still in high school, he joined the soul cover band, Las Olas Brass. When a more experienced drummer presented himself to the band, something fateful occurred: the band's bassist decided to move on at the same time. Although he wasn't a bass player, Jaco slid into the empty slot. He used money he earned as a paperboy to make another musical purchase. This time, he bought a new Fender Jazz bass.
It was during this era that an inkling of Jaco's future abilities began to appear. He couldn't read music, but in 1968 he borrowed his friend Bob Bobbing's reel-to-reel tape recorder and created his version of "The Chicken" by Pee-Wee Ellis. Jaco played all the instruments on the recording, which he sent to John Coltrane's widow, Alice, also an accomplished musician. She returned the favor by replying with an encouraging letter. In later years, "The Chicken" became one of Jaco's concert staples. With his interest in jazz, Jaco also acquired an upright bass. But, it wasn't easy to maintain and he eventually traded it for another electric bass guitar. Later, he would become known for getting an upright-like tone on his fretless electric.
Something else happened during this period of his life. He met a girl named Tracy Lee, who was destined to become his first wife.
After the Las Olas Brass, Jaco moved on to playing in an R&B trio called Woodchuck. His bass playing grew while he was in the trio. His younger brother Rory recalls an exchange with Jaco, who was nearing his 18th birthday, detailed in Bill Milkowski's book, Jaco: The Extraordinary and Tragic Life of Jaco Pastorius. "He looked me in the eye and said, real seriously, 'Rory, man, I'm the best bass player on earth.' I looked back at him and said, 'I know.'"
While Jaco was confident, he could also be humble. In his later career, he was known to say, "I'm doing a very bad imitation on the bass of Jerry Jemmott…"
During his Woodchuck days, Jaco also grew in another way. He became a husband and father. He and Tracy married in August 1970, and their daughter Mary was born in December of that year, eight days after her father's 19th birthday. He found a cruise ship gig for a bit, and his young family traveled with him in the Caribbean. Soon, another group came calling – a soul revue called Tommy Strand & the Upper Hand. His playing improved further with the group, but he really broke into new territory with the next band he joined: Wayne Cochran and the C.C. Riders.
A Whirlwind Musical Education and Growth
He spent just five months in the R&B group fronted by white soul singer Cochran, and as he had on the cruise ship, he found a way for Tracy and their daughter, Mary, to travel with him at times. The couple didn't indulge in any wild behavior on the tour bus. Jaco didn't drink or do drugs, and instead practically lived with his bass in his hands. He learned to read music during his 1972 stint with the group. Band member Charlie Brent also gave Jaco an influential crash course in arranging. Brent remembers Jaco appearing with a chart for the band, just three days after he and Brent had a long talk about arranging. It was gorgeous, Brent said. "He was this raw talent evolving before our eyes." (Milkowski, pg. 45). Cochran's long-running revue was intense, and is said to have inspired the John Belushi and Dan Aykroyd's creation of the iconic comic bluesmen, The Blues Brothers.
As he developed as a player, Jaco had experimented with creating fretless basses. In the early 1970s, he acquired a 1962 Fender Jazz bass, which either Jaco acquired already fretless or from which he removed the frets with a butter knife (his recollections varied over the years). Jaco filled in the areas where the frets had been with plastic wood and coated the former fretboard with epoxy. This bass, which was the primary fretless instrument he recorded with, and Jaco nicknamed it the Bass of Doom.
After his time with Cochran ended, he returned to Florida. He played with the Peter Graves Orchestra, connected with saxophonist-trumpeter Ira Sullivan and met and first played jazz guitar great-to-be Pat Metheny. Jaco began playing a jazz group with Sullivan, and the quartet's sound – jazz, but with funk and R&B influences – began to draw young fans. It also provided an outlet for Jaco's compositions, several of which, like "Continuum," appeared on his first solo album.
In 1973, Jaco and Tracy added another child to the family – John Francis Pastorius IV, and by that winter Jaco had connected with jazz pianist Paul Bley. The following year, Jaco went into a studio and did a demo session featuring songs that would appear on his self-titled solo album.
Jaco, Metheny, Bley and drummer Bruce Ditmas created a joint album, called Jaco, in 1974. And, during a trip to the famed Berklee College of Music in Boston, Jaco showed the students how he achieved his upright-esque sound on an electric. He even ended up teaching bass as an adjunct instructor in the University of Miami's jazz department, then headed by Bill Lee, father of another to-be-famous bassist: Will Lee, best known to general audiences for his work in late-night TV host David Letterman's house band.
But Jaco didn't love teaching, and something was about to happen that changed his life. Bobby Colomby, the drummer and leader of Blood, Sweat &Tears, was in Fort Lauderdale for a gig when he spotted Tracy Pastorius on the beach. He thought she was cute and they began to talk. She told him that her husband "is the best bass player in the world." Colomby was also seeking out artists for Epic Records' jazz division. He decided to see Jaco play. After watching him in action, he quickly offered Jaco a record deal. Jaco signed it in September 1975 and a month later, he was recording Jaco Pastorius.
1976: Jaco's Watershed Year
The album showed off Jaco in a wide range of styles, from Latin jazz to R&B to funk. Legendary R&B duo Sam & Dave handled vocals on "Come On, Come Over." Herbie Hancock appeared on the album throughout. The composition, "Portrait of Tracy," featured Jaco playing solo and making extraordinary use of harmonics. As the album was being recorded, Jaco made a foray into the rock world after meeting British musician Ian Hunter, of Mott the Hoople, and contributed the bass parts to Hunter's All-American Alien Boy solo album, which, like Jaco's solo debut, was released in 1976. America's bicentennial year also found Jaco being featured on Metheny's album, Bright Size Life, recorded at the end of 1975.
In the very active days of 1974 and 1975, Jaco also communicated with Joe Zawinul, leader of jazz fusion band Weather Report. Upon meeting Zawinul after a 1974 Weather Report gig, Jaco introduced himself by calling himself "the greatest bass player in the world." Zawinul didn't bite that time out, but after receiving an early mix of Jaco's solo album, he decided to call on the bassist when Weather Report needed a bass player in late 1975. Jaco joined the group and was destined to add another significant record release to his 1976 watershed year – he played on two tracks on Weather Report's Black Market: "Cannonball," and his own "Barbary Coast."
He remained in Weather Report through 1981, displaying both incredible musicianship and onstage showmanship. He was also a famed session player, most notably appearing on Joni Mitchell's Hejira (1976) and Don Juan's Reckless Daughter (1977). In Mark Bego's biography Joni Mitchell, the legendary singer-songwriter comments on her musical connection with Jaco: "In a way, I feel like I dreamed Jaco. I mean, he was exactly what I was waiting for, sonically…" (Bego, pg. 158).
Weather Report: Bright Skies and Impending Storms
With Weather Report, Jaco extended his musical reach. He was credited as a co-producer on the band's 1977 album, Heavy Weather, best known for the tunes "Birdland" and Jaco's "Teen Town." The album made a huge splash, and became a Gold record in the year of its release. Unfortunately, by this time, Jaco's avoidance of alcohol and drugs came to an end. He began drinking and using cocaine. In 1978, Weather Report released Mr. Gone, which didn't receive the same accolades Heavy Weather saw. However, Jaco's reputation as a bassist was sterling – Down Beat magazine readers and critics voted him their No. 1 electric bassist that year.
Jaco's and Tracy's marriage also ended in this period, with their divorce becoming final in early 1979. Jaco started exhibiting erratic behavior, evidenced by an extremely rough set at the February 1979 Havana Jam concert in Havana, Cuba, as part of the "Trio of Doom": guitarist John McLaughlin, Jaco, and drummer Tony Williams. The year included the release of the live Weather Report album, 8:30, which showed off Jaco's chops in a concert setting. The year also featured a new beginning for Jaco. He married girlfriend Ingrid Horn-Müller in July before heading out on tour with Joni Mitchell, whose touring band also included Metheny. While in Berlin that fall with Weather Report, he played a legendary solo bass concert on a day off. He was at the top of the bass world.
In 1980, Weather Report released Night Passage, which included Jaco's classic ballad, "Three Views of a Secret." He also signed a new solo deal, this time with Warner Brothers Records, and began recording his second solo album in August. Jaco's erratic stage behavior marred a performance with Weather Report in Japan in 1981, however. The year saw Jaco make his last recordings with Weather Report, for the album Weather Report. His second solo album, Word of Mouth, also appeared that year. In this period, the psychiatrist father of Weather Report drummer Peter Erskine also suggested that Jaco might be manic-depressive.
By early 1982, Jaco had debuted his Word of Mouth big band, and on June 9, his and Ingrid's twins, Julius Josef and Felix Xavier, were born. Unfortunately, he and Ingrid began growing apart, and Jaco began spending more time in New York City, instead of the Florida world he knew better. The New York version of Jaco was different. His drinking and drug use continued, unabated. His onstage behavior turned wild. During a tour of Japan, he threw his bass into Hiroshima Bay. Although Jaco contended he was fine, he went to Coral Ridge Psychiatric Hospital in Fort Lauderdale that September for a week's observation. He went out on tour not long after his release, and his combative behavior at an Italian concert turned the crowd hostile, with the event deteriorating into a riot in the middle of the show.
Jaco intended for the record Holiday for Pans to be his Word of Mouth follow-up in 1983. The album demos featured steel pan music, and no bass from Jaco. Warner Bros. declined to release the record and dropped him from the company's roster. And instead of Holiday for Pans, it released the live album, Invitation. Jaco, performing with the Word of Mouth band, turned in a confused performance at the 1984 Playboy Jazz Festival at the Hollywood Bowl. Depending on the night, he could turn in an inspired performance, or a messy one as he played gigs with the Word of Mouth big band or other artists. His mood swings came with the territory for those who knew him. By the following year, he and Ingrid were divorced.
Losing the "Bass of Doom" and a Mental Decline
In this disjointed era, Jaco's "Bass of Doom" was effectively destroyed. Jaco sent it to Kevin Kaufman and fellow luthier Jim Hamilton in 1986 for refurbishment. Shortly after it was returned to him, again in working order, it was stolen in Greenwich Village. Jaco, who often left the bass unattended as he played basketball games or slept in a New York park, never saw it again. The bass was only recovered in 2007. It is now owned by Metallica bassist Rob Trujillo. Jaco's bassist son, Felix, had the opportunity to play it on a couple of tracks on the Yellowjackets' album, A Rise in the Road. "It was a bit of a struggle to get through, just emotionally and because of what was involved," Pastorius said in an interview with Wayne Lockwood of The New York Daily News. Trujillo has told the family it can buy the bass for the same undisclosed price he paid for it. In the meantime, Trujillo, who has also produced a documentary about Jaco, is keeping the bass safe, under lock and key, in a Northern California vault.
The mid-1980s were difficult for Jaco and those who loved him. He was evicted from his New York City apartment and crashed with friends for as long as he could. After a tumultuous visit to his father's home in Pennsylvania, Jaco briefly entered a psychiatric facility. The bassist didn't like the effects of the lithium given to him as treatment. Jaco returned to New York and continued to play, but with his reputation for performances that could be inspiring one night but dispiriting the next work was hard to find. Friends were saddened by his severe decline. In July 1986, Jaco was encouraged to check into the psychiatric ward of Bellevue Hospital. The diagnosis: Jaco was bipolar (manic-depressive). He stayed at Bellevue for eight weeks and was released into the custody of a musician friend, who took Jaco back to the San Francisco area with him, where the two worked on a record.
At this time, Jaco's relationship with his girlfriend, Teresa, grew more volatile and Jaco began drinking more. Teresa returned to New York after visiting San Francisco and Jaco soon followed. Jaco played in New York and toured in Europe with a guitarist/bassist.
1987: Jaco's Final Year
Jaco started the year by moving back to Fort Lauderdale with his girlfriend, Teresa. Although he tried to regain stability, the old demons of mental illness reappeared, leading to many strange performances and even short stints in jail. Everything came to its tragic head on in the early morning hours of Sept. 12, 1987, when Jaco went to a bar called the Midnight Bottle Club, where he was ejected for his behavior. When he tried to kick the door back in, the club's manager, a third-degree black belt in karate, hit Jaco several times. Jaco's skull was fractured, and he suffered massive internal bleeding. Jaco never left the hospital. On Sept. 19, he had a brain hemorrhage and went on a respirator. His family decided to remove him from life support on Sept. 21 and he died a little more than three hours later, with Tracy holding his hand. Jaco Pastorius was 35 years old. His assailant pled guilty to manslaughter charges and ultimately only spent four months in prison.
Jaco is buried in Our Lady Queen of Heaven Cemetery in North Lauderdale and Jaco Pastorius Park opened in 2008 in Oakland Park. While his legacy lives on there, it's even more present in the legions of bassists inspired to play the instrument in a new way – or to play it at all – after hearing the work Jaco created during his prolific, but all too short career.