Jimmy Smith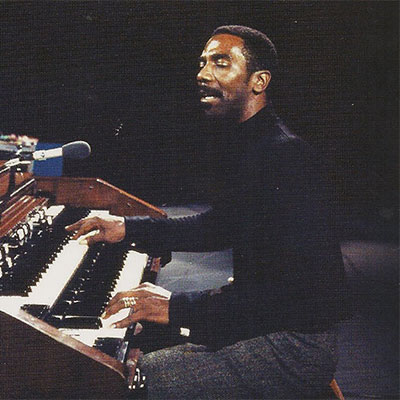 Inducted: 1997
Though he never received any exaggerated title, Jimmy Smith certainly ruled the Hammond organ in the '50s and '60s. He revolutionized the instrument, showing it could be creatively used in a jazz context and popularized in the process. His Blue Note sessions from 1956 to 1963 were extremely influential and are highly recommended. Smith turned the organ into almost an ensemble itself. He provided walking bass lines with his feet, left hand chordal accompaniment, solo lines in the right, and a booming, funky presence that punctuated every song, particularly the up-tempo cuts. Smith turned the fusion of R&B, blues, and gospel influences with bebop references and devices into a jubilant, attractive sound that many others immediately absorbed before following in his footsteps. Smith initially learned piano both from his parents and on his own.
Smith was born in Norristown, Pa., and attended the Hamilton School of Music in 1948, and Ornstein School of Music in 1949 and 1950 in Philadelphia. Smith began playing the Hammond in 1951, and soon earned a great reputation that followed him to New York, where he debuted at the Café Bohemia. A Birdland date and 1957 Newport Jazz Festival appearance launched Smith's career. He toured extensively through the '60s and '70s. His Blue Note recordings included superb collaborations with Kenny Burrell, Lee Morgan, Lou Donaldson, Tina Brooks, Jackie McLean, Ike Quebec, and Stanley Turrentine, among others. He also did several trio recordings.
Smith scored more hit albums on Verve from 1963 to 1972, many of them featuring big bands and using fine arrangements from Oliver Nelson. These included the excellent Walk on the Wild Side. But Verve went to the well once too often for crossover dollars, loading down Smith's late-'60s album with hack rock covers. His '70s output was quite spotty, though Smith didn't stop touring, visiting Israel and Europe in 1974 and 1975. He and his wife opened a club in Los Angeles in the mid-'70s. Smith resumed touring in the early '80s, returning to New York in 1982 and 1983. He re-signed with Blue Note in 1985, and has done more representative dates for them and Milestone in the '90s. After a five-year layoff, Smith returned in early 2001 with the blues projects Fourmost Return and Dot Com Blues.
Ron Wynn and Bob Porter, All Music Guide (allmusic.com)