Joan Jett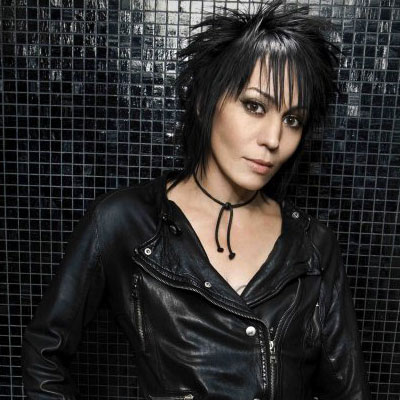 Inducted: 1996
By playing pure and simple rock & roll without making an explicit issue of her gender, Joan Jett became a figurehead for several generations of female rockers. Jett's brand of rock & roll is loud and stripped down, yet with overpowering hooks – a combination of the Stones' tough, sinewy image and beat, AC/DC chords and glam-rock hooks. As the numerous covers she has recorded show, she adheres both to rock tradition and breaks with it – she plays classic three-chord rock & roll, yet she also loves the trashy elements (in particular, Gary Glitter) of it as well, and she plays with a defiant sneer. From her first band, the Runaways, through her hit-making days in the '80s with the Blackhearts right until her unexpected revival in the '90s, she hasn't changed her music, yet she's kept her quality control high, making one classic single ("I Love Rock-n-Roll") along the way.
Jett was born in Philadelphia, PA; her family moved to Los Angeles when she was 12 years old. By the time she was fifteen, she had formed her first band and was performing around town. Kim Fowley, a Los Angeles record producer, discovered the band at one of their gigs and became their manager; soon, he renamed the all-female group the Runaways and secured them a contract with Mercury Records. The band released three albums that never had much commercial success in America, yet were very popular in Japan; the group were popular in both the Los Angeles hard-rock and punk scenes, which led to Jett's production of the Germs' first record, G.I.
The Runaways group broke up in 1980 and Jett moved to New York to begin a solo career. Teaming up with producer/manager Kenny Laguna, Jett independently released her self-titled debut album in 1980 in America, since no labels were interested in signing her. The record was a more traditional rock & roll record than the punky Runaways, yet it retained her previous band's defiant attitude. The record sold very well for an independent release, leading to a contract with Boardwalk Records, who reissued the album under the title Bad Reputation; it soon climbed to number 51 on the American charts.
Jett formed the Blackhearts between Bad Reputation and her second album, 1981's I Love Rock-n-Roll; the group included guitarist Ricky Byrd, bassist Gary Ryan, and drummer Lee Crystal. Released at the end of 1981, I Love Rock & Roll became her greatest success, sending her into the Top Ten. Originally the B-side of an Arrows single, the title track was an enormous success, spending seven weeks at number one in the spring of 1982. The follow-up single, a version of Tommy James & the Shondells' "Crimson and Clover," went Top Ten as well; a single of Gary Glitter's "Do You Wanna Touch Me (Oh Yeah)," taken from the Bad Reputation album reached number 20 in the summer of 1982. Album, released in 1983, went gold yet it had no hits that compared with either "I Love Rock & Roll" or "Crimson and Clover."
Jett starred in Paul Schrader's 1987 film Light of Day, which featured the Top 40 title song, yet she didn't have another Top Ten hit until 1988, when "I Hate Myself for Loving You," taken from the Up Your Alley album, hit number eight; the album became her second platinum record. After the album's success, her career had another slow period, with 1990's all-covers album The Hit List making it to number 36 and 1991's Notorious failing to chart. Between Notorious and 1994's Pure and Simple, a new generation of female rockers came of age and everyone from hard alternative rockers like L7 to the minimalist, riot grrl punk rockers like Bikini Kill claimed Jett and the Runaways as an influence. As a consequence, Pure and Simple received more press and positive reviews than any of her albums since the mid-'80s. In 1995, Jett recorded the live album Evilstig with the remaining members of the Gits, a Seattle punk rock band whose lead singer, Mia Zapata, was raped and murdered in 1993. Jett reunited with the Blackhearts for the 1999 album, Fetish.
Stephen Thomas Erlewine, All Music Guide (allmusic.com)