Joe Bonsall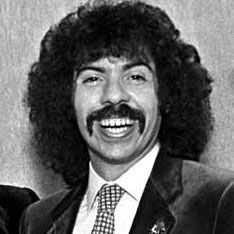 Inducted: 1994
Joe Bonsall and Richard Sterban were two Delaware Valley teenagers who met while singing in Philadelphia area quartets, the Keystones and the Faith Four. They now make up half of the Oak Ridge Boys, the Nashville phenomenon who have made their mark in music history by selling millions of albums. With hits like "Elvira" and "Bobbie Sue," they have won every major music award in the country including three Platinum and ten Gold albums, several Grammys and Billboard awards.
At the age of eight, while growing up in his Kensington neighborhood, Bonsall decided to become a professional singer. Inspired by gospel artists who performed in the Philadelphia area, his dream was closer to reality when he first sang with the Faith Four.
Meanwhile, across the river in Camden, Richard Sterban was planning his own musical career. His interest was stimulated by playing the trumpet and trombone and singing in his school and church choirs. Sterban sang in many gospel groups, most notably backing Elvis Presley as a member of the Stamps.
The friendship between these talented vocalists took them from Philadelphia to Nashville where Sterban joined the Oak Ridge Boys in 1972. His energetic personality, both on-stage and off, and unique vocal tenor became a trademark for the group. Bonsall joined the Oak Ridge Boys in 1973, adding his unmistakable deep voice to The Oak's famous four-part harmony and contributing to three decades of country and gospel hits.