Joe Grady and Ed Hurst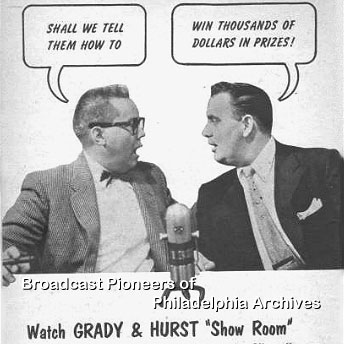 Inducted: 1993
Joe Grady d. August 10, 2000
From 1946 to 1955, the place to be after school was the WPEN (950 AM) studios at 2212 Walnut Street, where "The 950 Club with Grady & Hurst" kept the air waves filled with music and the dance floor filled with teenagers.
The show and format became so popular, it was only a matter of time until the new mass medium of television borrowed the idea. Unfortunately, station management wouldn't allow Joe and Ed to host the new TV show. That was good news for Dick Clark… and a show called "American Bandstand."
Ed Hurst's career began in 1944 at WFPG in Atlantic City while Ed was still only a high school junior. He served as an announcer and deejay and worked on numerous remote broadcasts originating from Atlantic City, including the Miss America Pageants.
Joe Grady was born in South Philly (2nd and Wolf). As a kid, he and his father, a Navy Yard worker, would listen to a crystal radio by stringing a copper wire through two oatmeal boxes. Later, they built their own radio set. Joe was an avid ham operator with the calls W3FVW. In 1936, Joe graduated from South Philadelphia Catholic High School, now St. John Neumann.
Grady's first radio job was part-time with WIP. He took the job while going to LaSalle College while attending on a theatrical scholarship. Grady graduated in 1940 with a bachelor's degree in business. After school he worked briefly at the Philadelphia Zoo and had a dance band. He played piano and organ. He landed his first full-time broadcast job as a radio announcer at WHAT. He later became program director of that station. In 1945, he joined WPEN to do staff announcing but became a full-time radio announcer within a few months.
In 1946, Ed Hurst joined WPEN, originating the "950 Club" with Joe Grady. The popular show went on to become Philadelphia's top rated radio program for an entire decade. The show also drew an astounding two to three thousand pieces of mail each week. The 950 Club was the first teenage show to have a studio audience (by invitation only) dance to the music on the air.
During that time from 1952-1955, Ed produced and performed on three television shows all airing on WPTZ-TV. They were "The Grady and Hurst Show," (with Joe Grady), a teen dance program, "The Arthur Murray Party," a formal adult dance program and "The Plymouth Showroom," a variety program featuring popular recording artists. All three programs were rated number one in its respective time slot. In 1955, "The Grady and Hurst Show" moved to WPFH-TV in Wilmington, DE, where it enjoyed great success. In 1958, the station moved to Philadelphia and became WVUE.
In 1958, Ed joined WRCV radio and TV, now known as KYW. He produced and performed on "The Grady and Hurst Show" morning radio program, as well as working on a TV show called "Summertime at the Pier." In 1965, Ed launched yet another show, "Ed Hurst at the Aquarama," a variety series with a deep sea background.
Ed joined WCAU-TV in 1966 and moved to WPHL in '67. At WPHL, "Summertime at the Pier" continued and was syndicated to WFLD (Chicago,) WOR (New York,) WXIX (Cincinnati,) WBAL (Baltimore,) WTAL (Atlanta,) KEMO (San Francisco,) WPGH (Pittsburgh,) WDCA (Washington) and WSBK (Boston.).
In 1970, Ed joined WPVI-TV and "The Steel Pier Show" entered its 12th year. It was still the highest rated dance program in the Delaware Valley. Among the numerous celebrity guests to appear on the show were Perry Como, The Osmonds, Buddy Greco, Patti Page, Frank Sinatra, Jr., Johnny Mathis, Stan Kenton and The Carpenters. Ed remained at WPVI until 1978. From 1978 to 1981, Ed did a series of television commercials, serving as the spokesperson for Relaxomatic Beds.
Grady and Hurst rejoined "The Station of the Stars" in 1981, for what was intended to be a two-week reunion hosting "The 950 Club." The response to the show was so powerful and overwhelming that Joe and Ed remained at WPEN each afternoon until 1987 when Joe Grady retired. Ed has remained with "The 950 Club" hosting the show on WPEN every Wednesday and Thursday from 1:00p.m. to 3:00p.m. Mr. Grady passed away in 2000 at the age of 82.