Kal Rudman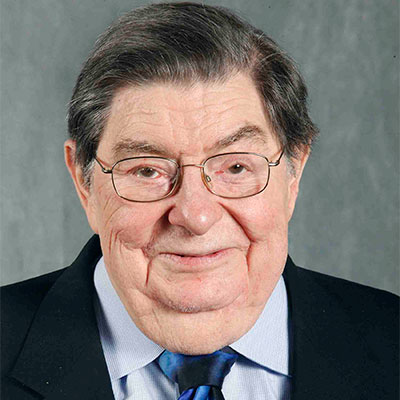 Inducted: 2000
Profiled in FORBES magazine's 32nd Annual Report on American Industry as the Leisure Industry's Man of the Year, Kal Rudman has long exerted a consistent and profound influence on the multi-billion dollar music industry and has pioneered in bringing pop/rock music to national prime time television. Each week, Rudman's dual publications, Friday Morning Quarterback and FMQB Album Report, described as the "Bibles of the business," evaluate record action across the country and earmark which records will build into national hits. Kal has an uncanny ability to predict which songs and artists will become America's favorites. Publications as diverse as Rolling Stone and The Wall Street Journal affirm Kal's influence and accuracy.
Rudman served as Merv Griffin's co-host on the "Merv Griffin Show Music Specials," the most successful series in the history of the "Merv Griffin Show," with Rudman featured on forty-two 90 minute specials to date. Kal acted a resident expert on contemporary music in America for "The Today Show," appearing on 21 segments during 1982, and he was a special guest on the "Tom Snyder Tomorrow Show" eight times that same year. A graduate of Philadelphia's Central High, Kal attended the University of Pennsylvania, the Philadelphia College of Osteopathy and Temple University where he finished up with an M.S. in Education. In the summer of 1959, Rudman made his debut as a Top 40 DJ on WCAM in Camden, New Jersey. He also hosted radio shows at WAAT in Trenton and WDAS-FM in Philadelphia.
While Rudman was destined to become known as the music industry's "Man with the Golden Ears," those ears have never failed to hear the call of those less fortunate. Kal's contributions to the local community have been paramount. He has twice sponsored the Variety Club Celebrity Pro Am Golf Tournament for Handicapped Children and served as co-host and entertainment director on the Easter Seal and Arthritis Telethons. His philanthropic endeavors have helped thousands of children, churches and community groups.