Lee Andrews and the Hearts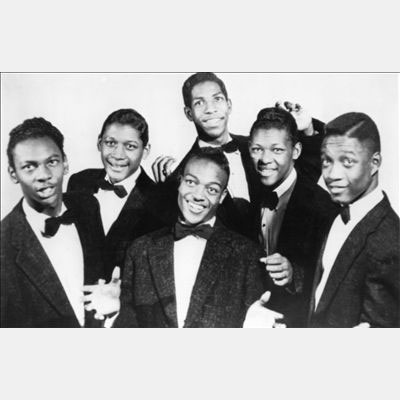 Inducted: 1992
One of the finest R&B vocal groups of the '50s, the Philadelphia-based Lee Andrews & the Hearts specialized in smooth ballads and were influenced by similar vocal acts like the Moonglows, the Orioles, the Drifters, the 5 Royales, the Five Keys, the Midnighters, and the Ravens, while lead vocalist Lee Andrews' influences were mostly solo artists like Bing Crosby, Frankie Laine, Frank Sinatra, and especially Nat King Cole. These two key influences – a harmonizing four-part vocal base with a strong but tender tenor voice leading the way – was the foundation of the Hearts' hard-to-beat sound.
The group scored three charting hits in the span of a single year (1957-1958). Their "Long Lonely Nights" (recorded for the tiny Mainline label) managed to barely beat the former Drifter Clyde McPhatter's version by a few chart points (number 45 to Clyde's number 49). It scored even higher on the R&B charts (number 11). At its peak, the group's next single for Mainline, "Teardrops," was picked up for wider distribution by Chess. It was their biggest hit, making it to at number 20 on the pop charts (on November 25, 1957), and by January 1958, it had jumped over to the R&B charts, where it ended up listing at number four. A third hit, "Try the Impossible" for the United Artists label, charted at number 33 on the pop charts (June 22, 1958).
Lee Andrews (b. Arthur Lee Andrew Thompson) was raised by a musical family in Goldsboro, NC. His father, Beechie Thompson, sang with the Dixie Hummingbirds. The Thompson family soon moved to Philadelphia, PA, when little Arthur Thompson was two. By the time he was a student at Bertram High School in 1952, Thompson had begun singing with four friends: Royalston "Roy" Calhoun (first tenor), Thomas "Butch" Curry (second tenor), James "Jimmy" McCalister (baritone), and John Young (bass). The quintet – from the neighborhood of 49th and Woodland in South Philly – first began calling themselves the Dreams and later, the Dreamers.
Between 1952 and 1954, the Dreamers rehearsed after school (often tutored on spirituals by Curry's aunt) and soon began incorporating R&B stylings into the mix. In early 1954, they visited the local WHAT radio station and danced in the studio adjacent to the DJ booth, where on-air personality Kae Williams held court. On one particular night, Williams asked a group of teens dancing in the next room about what local acts they liked and was told he should listen to the Dreamers. They later auditioned two Top Ten charters from previous decades and Williams was so awed by this unique assemblage that he offered to manage them on the spot.
In the spring of that year, Williams squired the Dreamers into Reco Arts Studio and cut two sides. The group then traveled with Williams to New York City and to the offices of Eddie Heller and Bobby Heller's Rainbow Records, a label so small it shared space with a Hell's Kitchen storefront known as Sonny's Deli. The two also ran a club in North Philly and had previously associated with Williams.
It was here that they learned there was already an act calling themselves the Dreamers and it was Jimmy McCalister who came up with the Hearts after spying a small plastic heart on a secretary's desk – actually Heller's wife. Since Thompson was to be featured on as the group's leader, he began shuffling his names around to come up with something he felt would sound better – and read better on the labels – than Arthur Thompson and the Hearts. He finally settled on calling himself by his two middle names and thus the name Lee Andrews & the Hearts was finally born.
The Hearts' first single was a version of the Orioles' then-charting "Maybe You'll Be There" (accompanied only by piano). It was issued in mid-May 1954 and received airplay in Philadelphia, but couldn't compete with the polished and established Orioles' version and sank like a stone. "The White Cliffs of Dover," their second single, was a better overall group performance but saw even less airplay activity. A third single from October 1954, "The Bells of St. Mary's," battled on the charts with a better-produced version of the same song by the Drifters. Williams obviously thought three tries was enough for Rainbow and pulled his group from the label.
By 1955, McCalister was Navy bound and soon replaced by Ted Weems, another neighbor from South Philly. As they were now high school grads they had to think of full-time employment. Lee Andrews and Roy Calhoun went to work at Gotham Record Distributors, hoping to also score a chance to audition for owner Ivan Ballen's Gotham record label. When the group learned that their contract with Williams wasn't valid because they were all minors when they signed it, they reportedly asked Ballen to audition them. However, Ballen's main interest was gospel music and he kept putting the teens off until the very end of 1955 when he finally relented and gave them a listen. Liking what he heard, he signed Lee Andrews and the Hearts to Gotham on January 3, 1956. Soon they were recording at the label's studio, located at 626 Federal Street.
Their first single, the Davies-Heyman standard "Bluebird of Happiness," was released in May, but failed to become a hit. Their next single, the Andrews-penned "Lonely Room," was virtually a note-for-note copy of the Larks' 1952 Apollo single "In My Lonely Room," but managed to gather airplay throughout Pennsylvania, Delaware, and New Jersey. The group's last Gotham single, which listed Andrews as its songwriter – even though it was reportedly penned by one Rita Sherwood – was issued toward the end of 1956. "Just Suppose" also failed to chart.
The Hearts grew frustrated when they realized that many of their best efforts for the label hadn't even been released. In early 1957, they auditioned at Weems' home for Philadelphia (WDAS) and New York (WWOV) jock Jocko Henderson, who – along with partner Barry Golder – owned Mainline Record Distributors and the Hearts looked like the perfect vehicle to start up their long planned Mainline label. Before they could record, however, bass vocalist John Young left the act (moving to New York) and the group continued to fill the low-register position with a series of replacements, including their piano player Gerald Thompson, Tom Hackett, and, finally, Roy's brother Wendell Calhoun, aka "Breeze."
By mid-year, however, the group was pleased to discover that their song "Long Lonely Nights" had caught on and found a new audience. The tiny Mainline label responded by issuing a new recording of the Hearts doing the song; meanwhile, Atlantic Records had their ace Clyde McPhatter record the song, and to further complicate things, a group calling themselves "the Kings" cover the song as well for their Baton label. As it turned out, the Kings were actually the popular act the Ravens, who were then signed to Chess Records' affiliate label Argo. With all of these versions of the same song competing for airplay, it's a wonder that the race was a close one at all and while there's no doubt the Hearts recording could have hit the Top Ten pop charts without the fierce competition, it managed to barely beat the former Drifters' version by a few points (number 45 to Clyde's number 49). It scored even higher on the R&B charts: number 11. (The Hearts can be consoled in the fact that their version has become the choice of oldies radio stations, while McPhatter's is now known only by hardcore collectors).
In November 1957, the Hearts' next single, "Teardrops," was picked up by Chess nationally, but in Philadelphia, it was released on the Argo affiliate as part of a distribution deal between Chess and Mainline. The song was an instant classic, eventually charted at its peak at number 20 on the pop charts (on November 25, 1957), but by January 6, 1958, it had jumped over to the R&B charts, and hit number four.
After two hits and getting shorted on royalties from Chess, Lee Andrews & the Hearts moved over to United Artists, where the group charted for the last time in 1958 with the typically polished "Try the Impossible." Jocko Henderson – managing the group at this point – finagled a deal in the Philadelphia area with the single, which ended up being released on his locally distributed Casino label (which was co-owned by Mickey Golder (Barry's brother). It charted at number 33 on the pop charts (June 22, 1958). The group never again charted on the R&B charts.
The group spent the rest of the year touring, which took its ultimate toll, breaking apart the band. Weems joined the army and Lee Andrews left the Hearts behind to go solo. He eventually surfaced on Swan Records for three singles with a then-uncredited group (later identified as the Neons). Those that remained began calling themselves the Five Hearts, a group consisting of Tommy White (lead), Roy and Wendell Calhoun and Butch Curry of the Hearts; and Eddi Custus (who recorded as one of the Superiors for Mainline). In 1959, the Five Hearts recorded "It's Unbelievable" for Arcade. The group's third disc jockey/manager, Hy Lit, got them signed to Chancellor Records, where yet another version of the group, now a quartet made up of Calhoun, Curry, Custus, and Sonny Gordon, actually re-recorded "It's Unbelievable" again. In February 1962, the group reunited briefly for "Together Again" (Gowen Records) with a lineup consisting of Lee Andrews, Curry, the Calhoun brothers, and Custus.
Lee then soloed again (if you can call a record with backgrounds by the Dreamlovers, Rick and the Masters, and various Hearts a solo) on "I'm Sorry Pillow" in December 1962, on Parkway. Meanwhile, the four singing Hearts recorded "Aisle of Love" for Guyden Records, in November 1962. When the single flopped, they split up.
By 1963, the Hearts had stopped ticking and their recordings became very collectable, so Grand Records struck a deal with Gotham and issued some of the group's old sides. Collectors' demand for more recordings prompted Lee to form a new Hearts group in the summer of 1966 with a few familiar names paired up with a few new ones: Booker, Mason, alongside new Hearts Robert Howard and Victoria McCalister. They recorded "You're Taking a Long Time Coming Back" which was issued on single by RCA. The group signed the dotted line with Crimson Records, and eventually wound up two singles later on Crimson's parent company, Lost Night, recording three original singles (an unusual move for this all-oldies reissue company) which were issued in 1968. By the time they did a live LP for Lost Night – recorded at a club in Fairless Hills, PA – the Hearts were Lee Andrews, Richard Howard, Richard Booker, and Tommy White.
Eventually, Andrews went into semi-retirement and opened a successful dress shop. In a 1971 interview he stated that he formed a new group called First Born and they were in the process of recording for Columbia, though no such record release ever took place. Andrews later re-emerged at the urging of producer friend Billy Jackson (the Tymes), who knew Lee's interests were now leaning in a 5th Dimension-style direction. Together, they formed Congress Alley with Booker, Jackie Andrews (Lee's wife), and Karen Brisco. This group managed two singles and an LP for Avco Embassy, but the releases weren't successful.
In 1981, Collectible Records unearthed the original first studio session tapes from Gotham and issued three singles, including yet another version of "Long Lonely Nights" which was lyrically different from the hit song, with just a piano accompaniment and crystal-clear harmonies. The oldies circuit revival of the '70s provided momentum for Lee to form one more Hearts, this one a family affair with Lee, his wife Jackie, son Ahmir, and daughter Dawn.
Roy Calhoun died in an apartment fire in 1979. Butch Curry and Wendell Calhoun have also passed away. Ted Weems joined the Pheasants ("Out of the Mist," Throne) in 1963 and later had a group called Tribute, but had no other hits.
Bryan Thomas, All Music Guide (allmusic.com)