Leon Huff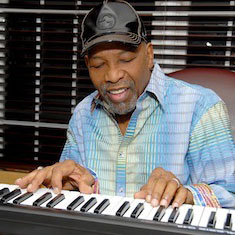 Inducted: 1993
In tandem with his partner Leon Huff, producer and songwriter Kenny Gamble was the principal architect behind the lush and seductive Philly Soul sound, one of the most popular and influential musical developments of the 1970s.
Leon Huff started his musical career as a session pianist, and played on sessions for Phil Spector, the Ronettes, and Carole King in New York City before moving to Philadelphia. He formed the Locomotions, and did sessions for Cameo and Swan. Huff earned his first hit as a composer writing "Mixed-Up Shook-Up Girl" for Patty & the Emblems in 1964.
Native Philadelphian Kenny Gamble first teamed with Huff during the late '50s while a member of the harmony group the Romeos, a unit which also included another aspiring area musician named Thom Bell, who would become crucial to Gamble's later success. "The 81," a 1964 single by the little-known Candy & the Kisses, was the inaugural Gamble-Huff co-production, and three years later the duo scored their first Top Five pop hit with the Soul Survivors' "Expressway to Your Heart." Soon recruiting Thom Bell as arranger, they subsequently scored with smashes including Archie Bell & the Drells' "I Can't Stop Dancing" and Jerry Butler's "Only the Strong Survive," gradually forging their own distinctive sound.
Gamble and Huff's success on labels including Atlantic and Chess – as well as their own Neptune and Gamble imprints – spurred them to contact Columbia in the hopes of opening a new affiliate company, one inspired by the continued success of Berry Gordy and Motown. Columbia agreed, and in 1970 the duo's Philadelphia International Records was born. Given a $75,000 advance for 15 singles, with LPs budgeted at $25,000 apiece, Gamble and Huff soon exploded into the national musical consciousness, selling some ten million records in the span of nine months thanks to monster hits including Billy Paul's "Me and Mrs. Jones," Harold Melvin & the Blue Notes' "If You Don't Know Me by Now" and the O'Jays' "Back Stabbers" and "Love Train." Their signature aesthetic – an intoxicating combination of sweeping strings, smoky horns and insistent rhythms – emerged as the definitive soul sound of the early '70s, also becoming the blueprint for the rise of disco during the latter half of the decade.
Under Gamble and Huff, Philadelphia International launched hit after hit from acts including the Intruders, MFSB, and the Three Degrees. The label had another huge hit in 1979 with the McFadden & Whitehead single "Ain't No Stoppin' Us Now." Throughout the disco era Philadelphia International's most consistent hitmaker was Teddy Pendergrass. Leon Huff issued two singles as a solo artist on the label in 1980 and 1981, with "I Ain't Jivin', I'm Jammin" getting some moderate recognition.
Jason Ankeny, All Music Guide (allmusic.com)