Leon Redbone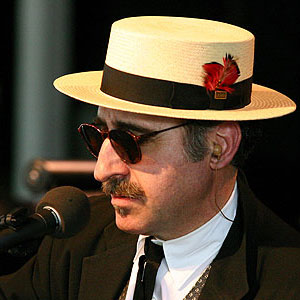 Inducted: 1997
While his gravelly baritone and omnipresent fedora, dark glasses and Groucho Marx moustache made him one of the more distinct and recognizable characters in popular music, little is known about the neo-vaudeville crooner Leon Redbone. Throughout his career, he steadfastly refused to divulge any information about his background or personal life; according to legend, Redbone's desire to protect his privacy was so intense that when he was approached by the famed producer John Hammond, the contact number he gave was not his own phone, but that of a Dial-A-Joke service.
Because Redbone first emerged as a performer in Toronto during the 1970s, he was believed to be Canadian; his work, a revival of pre-World War II ragtime, jazz and blues sounds, recalled the work of performers ranging from Jelly Roll Morton and Bing Crosby to blackface star Emmett Miller. He made his recording debut in 1976 with On the Track, which featured legendary jazz violinist Joe Venuti as well as singer/songwriter Don McLean; his 1977 follow-up Double Time even reached the U.S. Top 40 charts, largely on the strength of his frequent appearances on television's "Saturday Night Live."
After 1978's Champagne Charlie, Redbone began recording only sporadically; following 1981's Branch to Branch, he waited four years before re-entering the studio to cut Red to Blue. Invariably, his albums featured guest appearances from a eclectic cast of luminaries: while 1987's Christmas Island included a cameo by Dr. John, 1994's Whistling in the Wind included duets with Ringo Starr and Merle Haggard.
Redbone has also created and performed music for many commercials including award-winners for Budweiser, British Rail, All, and Geo. He appeared as a special guest star on Life Goes On, and his voice has been heard on theme songs for shows such as Mr. Belvedere and Harry and the Hendersons. Redbone continues to tour extensively in the United States and Europe.
Jason Ankeny, All Music Guide (allmusic.com)