Marian Anderson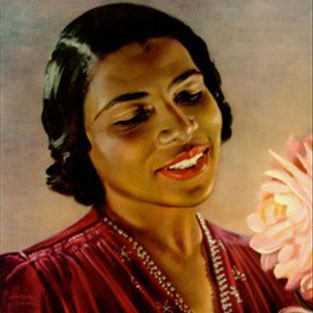 Inducted: 1987
A legendary African-American singer of both operatic and concert repertoire, Marian Anderson was possessed of one of the finest contralto voices in living memory. Her career was notable not only for her artistic achievements — which were many — but also for a dignified tenacity in the face of discrimination, and the opening of doors for subsequent generations of black American singers.
Having sung since childhood, and subsequently studied with a number of teachers in her native Philadelphia, Anderson first rose to prominence when she appeared with the New York Philharmonic Orchestra in 1925. In the early 1930s she made a successful concert tour of Europe, and solidified her growing reputation with further appearances in New York and London.
In 1939 Anderson scheduled an appearance at Constitution Hall in Washington, D.C., but was denied the use of the building by its owners, the Daughters of the American Revolution, who objected to the presentation of a black performer. Eleanor Roosevelt resigned her membership in the DAR in protest of this decision and then scheduled an appearance for Anderson at the Lincoln Memorial on Easter Sunday. The resulting concert, attended by thousands and broadcast nationwide, forever established Anderson as an ambassador for racial progress — a role she embraced with great pride and success for the remainder of her career. Fittingly, Anderson's 1955 appearance at the Metropolitan Opera marked the first by an African-American singer, preparing the way for such future stars as Leontyne Price and Shirley Verrett.
Marian Anderson's voice was dark, rich, and possessed of great power and agility. Her repertory ranged from opera and concert material to Negro spirituals, and she brought to all things a great sense of commitment and integrity. Arturo Toscanini is noted to have remarked that a voice like hers only appears "once in a hundred years." Her extraordinary range extended all the way down to the D below middle C — as displayed in her performances of Schubert's song Death and the Maiden (Der Tod und Das Madchen) — as well as upwards into soprano territory (as an exercise, she even sang the devastatingly difficult "Casta diva" from Bellini's Norma). While her voice was most distinctive in the lower range, she was also capable of lightening it almost to leggiero proportions — as she did in works of Handel and other Baroque composers — and of bringing a near-ideal combination of classical training and folk-like spontaneity to the spirituals that were an integral part of her concert and recording repertoire.
All Music Guide (allclassical.com)