Michael Douglas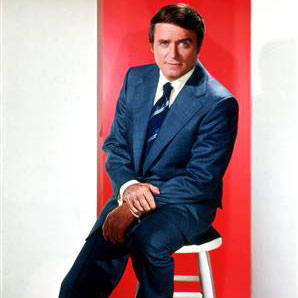 Inducted: 1997
Successful singer and talk-show host, Mike Douglas was a prolific personality in the 1950s and '60s. Mike Douglas has been compared to several other talk-show hosts that were born in the Midwest such as Johnny Carson, Dick Cavett and Phil Donahue. Referred to as "the Cary Grant of the coffee break," Mike Douglas charmed American housewives with style, personality and good looks.
Mike Douglas was born in Chicago and began a career in show business as a singer. He started out as a choir boy in school and turned pro in 1945. After serving a stint in the US Navy, Mike Douglas turned down a Hollywood singing opportunity to join the Kay Kyser Band. He stayed with the band more than five years, performing concerts, playing on the radio and on television. Michael Douglas and the Campus Kids was his successful contribution to the Kay Kyser Band. For two years he was a vocalist the quiz show, Kay Kyser's Kollege of Musical Knowledge.
When he made his debut in show business, his personal life was also taking a successful turn. He met Genevieve Purnell when the two were still in their teens yet they fell in love. The two met in Oklahoma and eloped, forging the marriage certificate because neither was of legal marrying age. Genevieve claimed she was 19. Together they have three daughters.
1950 brought about significant changes for Mike Douglas' career. Kay Kyser had quit show business leaving Mike Douglas to fend for himself in a profession of uncertainty. For starters, he dubbed the singing voice of Prince Charming in Cinderella. He became a regular on local Chicago variety shows including Hi Ladies, the prime-time Music Show and the daytime variety show Club 60. In 1961 the talented singer was hailed to Cleveland by the Westinghouse Broadcasting Company to host his own talk show. His show, The Mike Douglas Show, was syndicated nationally in 1963 and won an Emmy Award for Outstanding Daytime Performance. It was a major accomplishment as it was the first daytime talk show to win an Emmy. The Mike Douglas Show moved to Philadelphia in 1965, and remained there until moving to Burbank, CA in 1978. The show went off the air in 1982.
Douglas' innovative television show was supplemented by popular songs including his 1965 hit "The Men in My Little Girl's Life" (which toppled the Beatles from #1 on the charts), movie appearances, best-selling books, and standing-room-only live shows from Manhattan to Las Vegas. He played the Governor in the 1976 film Gator. He also appeared in The Incredible Shrinking Woman and Birds of Prey. Aside from films he made guest appearances on such popular 80s shows as Knots Landing and The Greatest American Hero.
Mike Douglas has continued his singing career, releasing several albums. As a tribute to Irish heritage he recorded You Don't Have to be Irish. In 1997 Douglas released A Rare Treasure of Memorable Music, and Love Songs in 2001. In 1999 he published his memoirs, "I'll Be Right Back."
Kim Summers, All Music Guide (allmusic.com)