Natalie Hinderas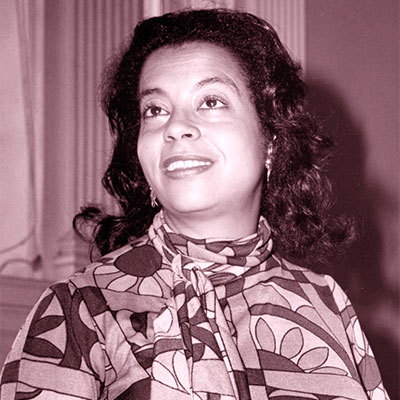 Inducted: 1995
The late Natalie Hinderas was a concert pianist at the age of twelve and became one of Philadelphia's most accomplished classical artists. The orchestras with which she appeared as soloist included those in Philadelphia, New York, Cleveland, Chicago, Dallas, Atlanta, Los Angeles, San Francisco and Toronto. There were triumphant tours of Europe, Asia and Africa. The U.S. State Department twice selected Ms. Hinderas to travel abroad as a cultural ambassador.
The San Francisco Chronicle called Hinderas "One of the great pianists of our era." Of her playing of Ginastera's difficult Piano Concerto No.1, the music critic for The Saturday Review observed, "It beamed a bright light on the score's magnetism and poetry… The bravos that followed were honestly earned by the richly gifted performer…"
Ms. Hinderas was an inspirational educator as a professor at Temple University's Esther Boyer College of Music for nearly twenty years and at the Settlement Music School where she guided minority students in their pursuit of musical careers. She was the recipient of dozens of awards, including the Leventritt, Rockefeller, and Rosenwald awards and an honorary Doctor of Music degree from Swarthmore College.
Ms. Hinderas made her debut with the Philadelphia Orchestra in 1971, one of the first black women to perform as a soloist with a major symphony orchestra. She was a pioneer in the research and the performance of the music of black composers and overcame the prejudices of her times to become one of the country's most gifted and successful classical artists.