Nelson Eddy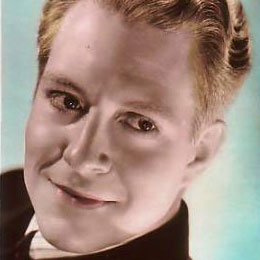 Inducted: 1988
Nelson Eddy was a formally trained baritone who is most often remembered for his movie partnership with singing actress Jeanette MacDonald, an association largely played out on the sound stages at MGM. Nonetheless, Eddy was a fine singer in his own right, with established credentials gained in legitimate opera, operetta, and recital before he ever appeared in the movies. In his spare time, Eddy was also a painter and sculptor, and before he decided to pursue singing as a full-time occupation, was interested in journalism and graphic arts.
Born in Providence, RI, Nelson Eddy was, by his own admission, raised as a pampered "mama's boy." His singing in the local church choir gained notice, and when Eddy's mother relocated to Philadelphia in 1917, Eddy began to divide his time working at a local newspaper and taking lessons from legendary singer David Bispham. Bispham was by this time old and ill, and died in 1921; Eddy finished his vocal training with teachers Eduardo Lippe and William W. Vilonat. Eddy started out his singing career in Philadelphia with semi-professional groups singing light opera and Gilbert & Sullivan, and this led to his joining the cast of the Philadelphia Civic Opera, making his professional debut as Tonio in I Pagliacci on December 11, 1924. He stayed with the company through its dissolution as a result of the Wall Street stock market crash of October 1929, minus a trip to Europe for more vocal study that finished in 1927. Also in 1927, Eddy began his long association with radio, a medium that would greatly help to enhance his reputation.
When the curtain ran down on the Philadelphia Civic Opera, Eddy landed a spot performing with the Philadelphia Grand Opera, beginning with the 1931-1932 season. Interestingly, Eddy's first role with this company was as the Drum Major in Alban Berg's Wozzeck. Eddy also began to tour out of town, giving recital concerts in New York and elsewhere, generally to excellent reviews. While in Hollywood in 1933, Eddy also appeared in walk-on parts in a couple of films, as he was known for his boyish good looks. Within a couple of years, Eddy was getting contract offers to play in the movies, and in 1935 he decided to close out his career as an opera singer, appearing for the last time on the opera stage as Amonasro in a production of Verdi's Aida at the San Francisco Opera. Eddy would never appear at the Metropolitan Opera in a regular production, but he would go into the movies as an A-list player. For some reason, Eddy's activity as a commercial recording artist didn't begin until this time, although earlier recordings of his singing going back to 1932 have been found in radio sources.
For his first major film role, Eddy was paired with an actress he'd met and briefly dated about a year earlier, Jeanette MacDonald. MacDonald was an experienced screen player, and Eddy frequently credited her afterward for helping him survive in their first production together, Naughty Marietta (1935). This film, based on the Victor Herbert operetta, was a runaway success as the MacDonald-Eddy team had a chemistry that clicked with audiences. This chemistry carried them through seven more operetta films through 1942. Not everyone shared the public's infatuation with Nelson Eddy; M-G-M studio executive Louis B. Mayer hated him, and the feeling was mutual. Mayer hoped to sabotage Eddy's celebrity by putting him in outfits and settings that made him look ridiculous. Unfortunately for Mayer, Eddy's fans couldn't get enough of him, although this did help give rise to the ill-informed critical notion of Eddy as a "wooden" actor who couldn't make it on his own.
The MacDonald-Eddy partnership in the movies ended with the film I Married an Angel, and though Eddy attempted to pitch projects featuring the pair to other studios, no one was buying. In 1942, Eddy left MGM and joined the OSS, working as an intelligence agent under the pretext of conducting a singing tour of the Middle East. Eddy returned from his tour of duty only to discover that the wind had gone out of the sails of his film career, and his last film was a Republic Western, Northwest Outpost (1947). Although Eddy could still find work on radio for a time, by the early '50s he was in a funk and not working. To change that, Eddy found a new partner in singer Gayle Sherwood and began to entertain on the nightclub circuit, rather than in the recital hall – by that time Eddy had lost his self-confidence and didn't think he was "good enough" to return to opera. Eddy, however, was good enough to appear with Sherwood on a TV production of The Desert Song in 1955. When in the following year Jeanette MacDonald joined him for a special TV appearance, it attracted hordes of fan mail. In 1957, Eddy and MacDonald worked together once again, recording an LP for RCA Victor entitled Favorites in Stereo. The record sold more than a million copies, but it proved a last hurrah for both artists. Jeanette MacDonald was mostly bed-ridden with heart trouble for the last years of her life, and died in 1965 at age 61. On March 5, 1967, Eddy told an interviewer that he planned to "sing until I drop" – and he did, of a stroke, later than night. Nelson Eddy was 65 years of age.
By the time he died, Nelson Eddy was already the butt of a great deal of ridicule, cast about by a cynical society that viewed operetta itself as a hopelessly outdated form of entertainment. By the turn of the 21st century however, an entire cult has grown up around the MacDonald-Eddy (or "Mac-Eddy") phenomenon. Fans contend that there was a personal relationship between Nelson Eddy and Jeanette MacDonald that continued on an intermittent basis for most of their lives, though the two married others and never acknowledged their mutual affection publicly. Some say this is a myth, but it has helped to keep Nelson Eddy in the public eye at a time when many of his more "legendary" contemporaries among baritones, such as Lawrence Tibbett and John Charles Thomas, are all but completely forgotten. Eddy may not have thought himself good enough to sing at the Met, but the energy and excitement that he brings to performances such as his 1940 recording of Saint-Saëns' Danse Macabre, his broadcast work, and his duets with MacDonald are all ample evidence of his gifts. The fact that the popularity of Nelson Eddy continues to grow nearly four decades after his death is something that speaks for itself.
Uncle Dave Lewis, All Music Guide (allmusic.com)