Nina Simone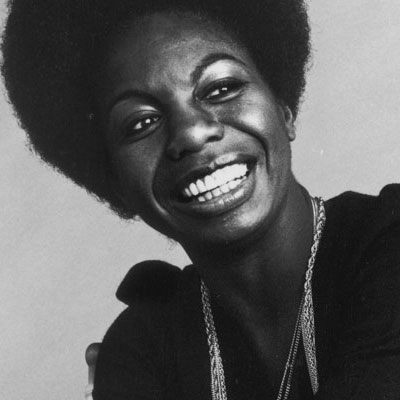 Inducted: 1994
Of all the major singers of the late 20th century, Nina Simone was one of the hardest to classify. She recorded extensively in the soul, jazz, and pop idioms, often over the course of the same album; she was also comfortable with blues, gospel, and Broadway. It's perhaps most accurate to label her as a "soul" singer in terms of emotion, rather than form. Simone was an eclectic who brought soulful qualities to whatever material she interpreted. These qualities were among her strongest virtues; paradoxically, they also may have kept her from attaining a truly mass audience. The same could be said of her stage persona; admired for her forthright honesty and individualism, she was also known for feisty feuding with audiences and promoters alike.
If Simone had a chip on her shoulder, it probably arose from the formidable obstacles she had to overcome to establish herself as a popular singer. Raised in a family of eight children, she originally harbored hopes of becoming a classical pianist, studying at New York's prestigious Juilliard School of Music – a rare position for an African-American woman in the 1950s. After her New York studies, Simone and her family moved to Philadelphia. Needing to support herself while she studied, she generated income by working as an accompanist and giving piano lessons. Auditioning for a job as a pianist in an Atlantic City nightclub, she was told she had the spot if she would sing as well as play. Almost by accident, she began to carve a reputation as a singer of secular material, playing in Philadelphia and Atlantic City clubs, though her skills at the piano would serve her well throughout her career.
In the late '50s, Simone began recording for the small Bethlehem label (a subsidiary of the vastly important early R&B/rock & roll King label). In 1959, her version of George Gershwin's "I Loves You Porgy" gave her a Top 20 hit – which would, amazingly, prove to be the only Top 40 entry of her career. Nina wouldn't need hit singles for survival, however, establishing herself not with the rock & roll/R&B crowd, but with the adult/nightclub/album market. In the early '60s, she recorded no less than nine albums for the Candix label, about half of them live. These unveiled her as a performer of nearly unsurpassed eclecticism, encompassing everything from Ellingtonian jazz and Israeli folk songs to spirituals and movie themes.
Simone's best recorded work was issued on Philips during the mid-'60s. Here, as on Candix, she was arguably over-exposed, issuing seven albums within a three-year period. These records can be breathtakingly erratic, moving from warm ballad interpretations of Jacques Brel and Billie Holiday and instrumental piano workouts to brassy pop and angry political statements in a heartbeat. There's a great deal of fine music to be found on these, however. Simone's moody-yet-elegant vocals were like no one else's, presenting a fiercely independent soul who harbored enormous (if somewhat hard-bitten) tenderness.
Like many African-American entertainers of the mid-'60s, Simone was deeply affected by the Civil Rights Movement and burgeoning Black Pride. Some (though by no means most) of her best material from this time addressed these concerns in a fashion more forthright than almost any other singer. "Old Jim Crow" and, more particularly, the classic "Mississippi Goddam" were especially notable self-penned efforts in this vein, making one wish that Nina had written more of her own material instead of turning to outside sources for most of her repertoire.
Not that this repertoire wasn't well-chosen. Several of her covers from the mid-'60s, indeed, were classics: her revision of Weill-Brecht's "Pirate Jenny" to reflect the bitter elements of African-American experience, for instance, or her mournful interpretation of Brel's "Ne Me Quitte Pas." Other highlights were her versions of "Don't Let Me Be Misunderstood," covered by the Animals for a rock hit; "I Put a Spell on You," which influenced the vocal line on the Beatles' "Michelle"; and the buzzing, jazzy "See Line Woman."
Simone was not as well-served by her tenure with RCA in the late '60s and early '70s, another prolific period which saw the release of nine albums. These explored a less eclectic range, with a considerably heavier pop-soul base to both the material and arrangements. One bona fide classic did come out of this period: "Young, Gifted & Black," written by Simone and Weldon Irvine Jr., would be successfully covered by both Aretha Franklin and Donny Hathaway. She did have a couple of Top Five British hits in the late '60s with "Ain't Got No" (from the musical Hair) and a cover of the Bee Gees' "To Love Somebody."
Simone fell on turbulent times in the 1970s, divorcing her husband/manager Andy Stroud, encountering serious financial problems, and becoming something of a nomad, settling at various points in Switzerland, Liberia, Barbados, France, and Britain. After leaving RCA, she recorded rarely, although she did make the critically well-received Baltimore in 1978 for the small CTI label. She had an unpredictable resurgence in 1987, when an early track, "My Baby Just Cares for Me," became a big British hit after being used in a Chanel perfume television commercial. In 1993, her record A Single Woman marked her return to an American major label, and her profile was also boosted when several of her songs were featured in the film Point of No Return. She published her biography, I Put a Spell on You, in 1991, but grew increasingly frail throughout the late '90s and had to be helped on to the stage during a 2001 Carnegie Hall performance. Nina Simone died on April 21, 2003 at her home in Carry-le-Rouet, France, where she had been spending much of her retirement.
Richie Unterberger, All Music Guide (allmusic.com)