Pat Martino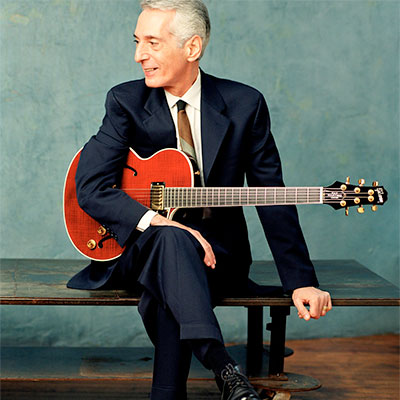 Inducted: 1996
By the age of 25 Pat Martino had achieved legendary status as one of the greatest jazz guitarists of his time. Having worked with all of the great organ trios in his teens, he began recording under his own name in the mid-sixties and released El Hombre, Strings! and Baiyana (The Clear Evidence), all successful with the latter representing an unprecedented venture between jazz and psychedelia. Another half dozen recordings and countless live performances during the early 70's established Pat Martino as a jazz virtuoso.
In 1976 Pat began experiencing excruciating headaches that were eventually diagnosed as symptoms of a brain aneurism that threatened to end his life. After undergoing successful surgery, he found himself unable to remember anything about his musical abilities. By intensely studying his own recordings to regain his skills, Pat Martino experienced a musical rebirth that was truly phenomenal. His 1987 release The Return marked the beginning of his rise, for a second time, to becoming one of the most respected jazz guitarists of our time.
Born Pat Azzara in South Philadelphia, Pat's exposure to jazz came at an early age through his father, who sang in local nightspots. Pat's childhood curiosity led him to find the guitar that his father kept hidden under his bed. It took years for young Pat to convince his dad that he would be a serious guitarist. Pat's earliest influence came from Johnny Smith and Wes Montgomery, and as a young teen, he played in a band with fellow Philadelphians Bobby Rydell on drums, Frankie Avalon on trumpet, and Chubby Checker.
Pat is a dazzling performer with a virulent musical style that is described as "dense, even assaultive" by New York Times music writer Matt Resnicoff. "Mr. Martino along with George Benson, are among the few important jazz guitarists to arrive in the 1960s who understood the place of blues sensibility in jazz who could improvise with the fluency and drive of a horn player," said Peter Watrous of the same newspaper. He moves brilliantly between jazz, funk, rock, blues, bebop and, through computers and guitar synthesizers to compose orchestral works. Since The Return, he has released a number of albums for the Muse, Evidence, and most recently Blue Note record labels. Both Pat's 2001 release Live at Yoshi's and 2003's Think Tank were nominated for GRAMMYs.
"Jazz is life, it's a form of expression. This is my life – this is what I do. This is my euphoria. This is my ecstasy. This is my paradise," Pat explained in an earlier interview. Audiences from Philadelphia, to New York, to Japan and throughout Europe are the beneficiaries of this remarkable man's talent, which in turn brings Pat great satisfaction. "The guitar," he mused, "is of no great importance to me. The people it brings to me are what matter. They are what I'm extremely grateful for, because they are alive. The guitar is just an apparatus."