Patty Jackson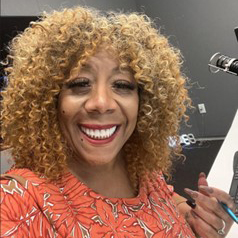 Inducted: 2023
If you ask Philadelphians who their go-to source for news with a dose of entertainment is, they're more than likely going to say multimedia personality, Patty Jackson. The same Patty Jackson who knows where to get the good barbeque in the city knows the Reading Terminal Market like the back of her hand and is known for her peach cobbler just as much as she is known for her soothing voice. Jackson, a South Philadelphia native, is a thirty-nine-year radio and multimedia veteran with no sign of slowing down.
Jackson began her career in broadcasting at WSSJ in Camden, New Jersey. From WSSJ, Patty went to Philadelphia's country station WXTU, then to WUSL and in 1987 became a part of the WDAS family. In 1993, Patty decided to try another format and took a one-year hiatus to co-host mornings at WIOQ. After adding another facet to her broadcast history, Patty returned to her home at WDAS where she is currently the midday host, listeners can enjoy her iconic voice 10 am – 3 pm, Monday through Saturday. Patty's mid-day radio show, her 4-1-1 feature, and her social media features including her wildly popular YouTube channel are all considered mandatory to Jackson's growing base of loyal supporters.
In 2015 Jackson suffered a stroke that would change her life. Many questioned if Jackson would ever be able to bounce back to the personality they knew and loved. Jackson not only bounced back, she charged ahead with full speed and consistently credits God for her ability to tell her story and warn others of the importance of taking care of their bodies and their mental health.
Jackson, who was recently inducted into the Philadelphia Broadcast Pioneer Hall of Fame, is an entertainment writer for the Philadelphia Tribune Magazine as well as the first voice many travelers from cities across the nation and around the world hear when they arrive in Philadelphia as she is Philadelphia International Airport's official voice of welcome and information! Jackson's latest achievements are being named one of the most influential Philadelphians, receiving the honor of having the 2300 block of Ellsworth renamed "Patty Jackson Way" in her honor, and being profiled in Philadelphia Magazine (she's on page thirteen if you happen to pick up a copy or two).
Jackson continues to strive for greatness on-air and continues to reinvent herself with her growing YouTube channel and her successful "Patty and the Millennials" podcast. Jackson shows no sign of stopping because she loves what she's doing and feels an obligation to inform others of the latest in entertainment culture because as Jackson would say "It's not cute not knowing."