Peter Nero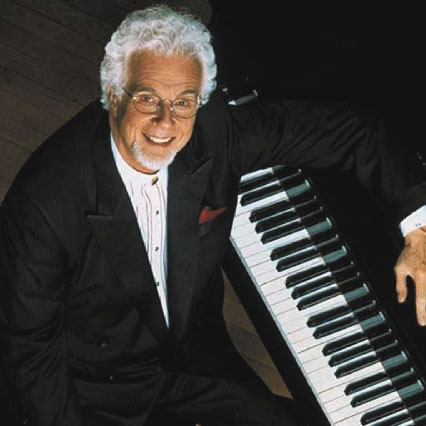 Inducted: 1996
Peter Nero has built an impressive career as a Pops conductor, arranger, composer and master pianist. His solid musicianship, innovative programming, and warm, informal stage presence have won him a loyal and enthusiastic audience. He has recently been called "a high-class showman, a pianist with dazzling technical virtuosity and inspired improvisation" (The Virginian-Pilot) and "the epitome of the Pops Conductor/Performer" (The Washington Post). Peter Nero is the music industry's consummate example of staying power, receiving his first Grammy® Award more than 40 years ago.
One of Nero's greatest achievements is the founding of the world renowned Philly Pops, one of the largest independent pops orchestras in the country. The Pops, which celebrated their 25th anniversary in 2003, recently marked their first season as a resident company at the new Kimmel Center for the Performing Arts.
A two-time Grammy Award-winning pianist, Peter Nero leads this unrivaled Pops orchestra that blends classical, swing, Broadway, blues and jazz – all performed with vibrant virtuosity and an inviting sense of humor. In 2001, Peter Nero and the Philly Pops' released its first full-length recording, Holiday POPS!, which The Philadelphia Inquirer called "a classic of its kind."
Nero has performed throughout the world in some of the most prestigious concert halls including Kennedy Center, Carnegie Hall, Royal Albert Hall in London and the Concertgebouw in Amsterdam. Peter's recent guest performances include return engagements with the National Symphony Orchestra at Kennedy Center, the New Mexico and Arkansas Symphonies, the Buffalo and Dayton Philharmonics, the Florida Orchestra, and the Pacific, St. Louis and Virginia Symphony Orchestras.
The Brooklyn-born musician started his formal music training at the age of 7. By the time he was 14, he was accepted to New York City's prestigious High School of Music and Art and won a scholarship to the Juilliard School of Music. Constance Keene wrote in a recent issue of Keyboard Classics, "Vladimir Horowitz was Peter's greatest fan!"
He recorded his first album in 1961 and won a Grammy that year for "Best New Artist." Since then, he has received another Grammy Award, garnered 10 additional nominations, and recorded 67 albums. Peter's early association with RCA Records produced 23 albums in eight years. His subsequent move to Columbia Records resulted in a million-selling single and album, Summer of '42 now available on CD. His piano prowess led Cashbox Magazine to name Peter the world's "Number One Instrumentalist."
His first major national TV success came at age 18 when he was chosen to perform Gershwin's Rhapsody in Blue on Paul Whiteman's TV Special. He subsequently appeared on many top variety and talk shows including 11 guest appearances on The Ed Sullivan Show and numerous appearances on Johnny Carson's Tonight Show.
Hailed as one of the premier interpreter of Gershwin, Peter starred in the Emmy Award-winning NBC Special S'Wonderful, S'Marvelous, S'Gershwin. Other TV credits include performances on PBS-TV Piano Pizzazz, the National Symphony in Washington, D.C. on its July 4th Special entitled A Capitol Fourth, and the PBS-TV special The Songs of Johnny Mercer: Too Marvelous for Words with co-stars Johnny Mathis and Melissa Manchester.
Nero's recordings over the last 13 years include three CDs with full symphony orchestra: On My Own, Classic Connections and My Way. He recorded Peter Nero and Friends, which contains collaborations with Mel Torme, Maureen McGovern and Doc Severinsen, among others. His latest CDs are romantic albums entitled Love Songs For a Rainy Day and More in Love. By popular demand, four of his earlier recordings have been re-issued by BMG Music.
Among a long list of honors are four Honorary Doctorates and the International Society of Performing Arts Presenters Award for "Excellence in the Arts." He is also included on two historic walks of fame – one in Philadelphia, and one in Miami, FL. In 1999, he received the prestigious Distinguished Arts Award presented by Pennsylvania Governor Tom Ridge. Previous honorees were Bill Cosby, Jimmy Stewart, Marian Anderson, James Michener, Andrew Wyeth and Riccardo Muti.
Nero continues his commitment to many important causes, including funding of school music programs, fundraising for the building of new arts centers across the country, cancer research, dystonia and autism.