Philly Joe Jones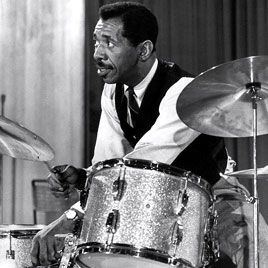 Inducted: 1996
The late Philly Joe Jones was an innovator of modern jazz drum technique who was the drummer of choice for jazz giants Miles Davis, John Coltrane, Tadd Dameron, Gil Evans and others. Born Joseph Rudolph Jones, Philly Joe Jones was an exciting, explosive drummer and his influence on modern jazz is legendary.
Philly Joe left his hometown (he was one of the first African American trolley car drivers in Philadelphia) to hook into the New York jazz scene in 1952, where he worked with Tadd Dameron and then achieved critical and popular acclaim with the Miles Davis Quintet. He was prolific in his recordings, appearing as a leader on Blues for Dracula (1958), Drum Songs (1978), and others, and as a sideman with Miles Davis on Round Midnight (1955), Cookin' (1956), Milestones (1958), and more.
Following his association with Miles Davis, Philly Joe became one of the most sought-after drummers in the world. He lived and worked in London and Paris in the early 70's, but returned to Philadelphia to form a jazz rock group, Le Grand Prix. In 1981 he formed Dameronia, dedicated to performing the music of Tadd Dameron.
Considered a superb timekeeper, Philly Joe Jones' techniques are studied by jazz students throughout the world. Whether his influence was through subtle technique or hard-driving aggression, Philly Joe was versatile, often playing on a minimal drum kit, and adapting his drumming style to create many moods and sounds. His contribution to some of the most important jazz recordings in history elevated the role of drumming in modern jazz and changed the course of jazz music forever.