Randy Brecker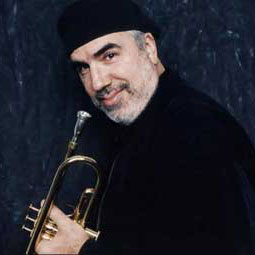 Inducted: 1997
Randy Brecker has been shaping the sound of jazz, R&B and rock for more than three decades. His trumpet and flugelhorn performances have graced hundreds of albums by a wide range of artists from James Taylor, Bruce Springsteen, Chaka Khan, George Benson and Parliament-Funkadelics to Frank Sinatra, Steely Dan, David Sanborn, Horace Silver, Jaco Pastorius and Frank Zappa.
Randy Brecker's history is as varied as it is distinguished. Born in Philadelphia to a piano-playing father, Randy spent summers in stage-band camps where he got his earliest experience in ensemble playing. He began playing R&B and funk in local bar bands while in his teens, but at the same time he had an ear for hard bop. "I'd listen to Sonny Rollins, Lee Morgan, Miles' Quintets, Art Blakey, Horace Silver, the Clifford Brown/Max Roach group," explains Brecker.
After finishing high school. Randy attended Indiana University where, after winning the 1965 Notre Dame Jazz festival, the IU Jazz Band was awarded a 3 month State Department tour of the Middle East and Asia. In 1966, he moved to New York City. Some of his first gigs upon arriving there were with Clark Terry's Big Band, the Thad Jones/ Mel Lewis Jazz Orchestra and the Duke Pearson Big Band with whom he recorded 2 albums. Randy also began his foray into jazz-rock by joining Blood, Sweat and Tears. He worked with BS&T for a year and played on their innovative 1968 debut, Child is Father to the Man.
Randy left BS&T to join the Horace Silver Quintet. "BS&T was a very structured situation…I needed to stretch out and play." In 1968, Randy recorded his first album as a leader, Score (re-issued in 1993 on Blue Note), which also featured 19 year-old Michael Brecker on tenor saxophone.
After Horace Silver, Randy joined forces with Art Blakey's Jazz Messengers before teaming up with brother Michael, Barry Rogers, Billy Cobham, and John Abercrombie to form the seminal fusion group Dreams. The group recorded two adventurous and wildly acclaimed albums: Dreams and Imagine My Surprise – now collector's items – for Columbia Records before they disbanded in 1971.
In 1972, Randy was back with Horace Silver, teaming up with brother Michael as the front line in Horace's quintet. By now, the two horn players had become two of the most in-demand studio musicians of the day. After recording the now classic In Pursuit of the 27th Man (Blue Note) with Horace, Randy left to join another new influential jazz-rock group led by old friend Larry Coryell which resulted in the album Larry Coryell and The 11th House. In '74, the brothers joined Billy Cobham's group, Spectrum, with whom they recorded several albums, and by 1975 they were ready to front their own band.
The Brecker Brothers were to become a band of immeasurable influence and impact. Hailed by pop and jazz critics alike, their first album, The Brecker Brothers (Arista) which Randy produced, wrote, and arranged, was nominated for four Grammys. The Brecker Brothers went on to record a total of six albums, including the still popular Heavy Metal Be-Bop and garner seven Grammy nominations between 1975 and 1981. In 1978 Randy and Michael played a week in NYC with Frank Zappa which resulted in the much requested album Zappa in NY.
In the late 70s. Randy recorded on Charles Mingus' last album. Me Myself and Eye. Randy has performed with various incarnations of Mingus Dynasties, Big Bands, and Epitaphs up to the present day. From 1977-1987 the Brecker Brothers owned and operated Seventh Avenue South, a jazz club in downtown Manhattan. The club became a major musical hangout with many great bands of all styles performing nightly.
After the Brecker Brothers parted in 1982, Randy recorded and toured extensively with Jaco Pastorius, recording the famous Word of Mouth album, a live concert in Japan. In 1986, Randy produced, composed and arranged his first acoustic jazz album, In the Idiom, for Denon Records, with Joe Henderson, Dave Kikoski, Ron Carter, and Al Foster.
In 1988, Randy recorded Live At Sweet Basil, for Sonet Records at the famed jazz club in New York, with Bob Berg, Joey Baron, Dave Kikoski, and Dieter Ilg. Through the end of the 80s, Randy toured North America and Europe several times as a leader, as well as touring with Stanley Clarke's Jazz Explosion. In 1989 under the auspices of the US State Department, he toured Eastern Europe with his Quintet six months before the fall of Communism. Also in 1989, he performed a sold out week at the Albert Hall in London with Eric Clapton.
The 1990s began with Randy on tour with the Mingus Dynasty/Epitaph. He also recorded and co-produced his third album as a leader. Toe To Toe, for MCA in 1990. And in 1992, exactly ten years after they disbanded, Randy and Michael joined forces again in a much heralded reunion featuring a world tour and the triple-Grammy nominated GRP recording, The Return of the Brecker Brothers.
In the fall of 1994, the Brecker Brothers released the double-Grammy winning Out of the Loop, with tours that followed into 1995 throughout the U.S. and Europe. They were the first international contemporary jazz group to perform in the People's Republic of China, playing to sell-out crowds in Beijing and Shanghai. Branching out again in 1995, Randy toured Japan as a special guest with Stanley Turrentine and was one of the first western jazz artists to tour in Poland.
Most significantly, he began recording his first solo album in six years with a band of musicians assembled from different parts of the globe, including long-time friend and musical cohort David Sanborn, guitarist Adam Rogers from Lost Tribe, Brazilian vocalist Maucha Adnet (singer with the late Jobim's band), and bassist Bakithi Kumalo of Graceland fame, among others. Drawn to and inspired by the music of Brazil since his first visit there in 1979, Randy offered up his impression of Brazilian music mixed with pinches of Latin, world music, funk and jazz on Into the Sun in 1996. Released first in Japan on Pony Canyon, it became available on Concord Records throughout the rest of the world, and won Randy his first Grammy as a soloist in 1998 for "Best Contemporary Jazz Performance." A live concert of the music from the album was filmed by Japanese television station NHK and broadcast in 1997. The summer of that year, Randy toured Europe with Joe Henderson, and closed the year on tour with the Mingus Big Band across the U.S. and South America, and the Carnegie Hall Jazz Band in Europe.
1998 began with Randy's appearance on tour as a special guest with Billy Cobham in the U.K. In fact, it was while on stage at Ronnie Scott's in London, that Randy first heard the news of his Grammy win. Summer appearances included several reunion concerts with Larry Coryell and the 11th House, as well as a special guest appearance with the Vanguard Orchestra in a Tribute to Thad Jones In Marciac, France. Later that year he began appearing with the Art of Blakey Band featuring Benny Golson and Curtis Fuller in addition to performing in Israel twice as a guest soloist.
The Millennium had Randy signed to ESC Records and his first release on that label: the controversial Hangin' in the City appeared, featuring the antics of 'Randroid' his rappin' cab-drivin' alter-ego. Hangin' sold especially well in Europe and Japan (it went to #4 on the German charts) and allowed Randy to perform more regularly around the globe as the leader of his own band. Also in the spring of that year he toured the US extensively as a part of Festival Productions' Newport Jazz Millennium Celebration tour. The summer saw the release of the Jazz Times Superband CD on Concord featuring Randy, Bob Berg. Joey DeFrancesco and Dennis Chambers, and another US festival tour.
He has been a part of the touring Concord/Fujitsu Jazz Festival in Japan three times in recent years, with Art of Blakey Band and as special guest with the Ray Brown Trio and the Micheal Brecker Quartet. In addition he has been a frequent guest in Russia touring with the Igor Butman Quartet.
Randy's most recent CD for ESC, 34th N Lex was released in April of 2003, winning a GRAMMY, and features 11 new Randy Brecker compositions and arrangements and the dream horn section of David Sanborn, Micheal Brecker, Fred Wesley and Ronnie Cuber, along with Randy's regular working band and his wife, the Italian tenor saxophonist Ada Rovatti. The summer of 2003 culminated in the special headline appearance in Japan at the Mt. Fuji Jazz Festival of the reunited Brecker Brothers.
Randy Brecker continues to influence and inspire young musicians, and throughout the years, has been in constant demand as a Yamaha Clinician, performing at colleges and universities the world over.