Riccardo Muti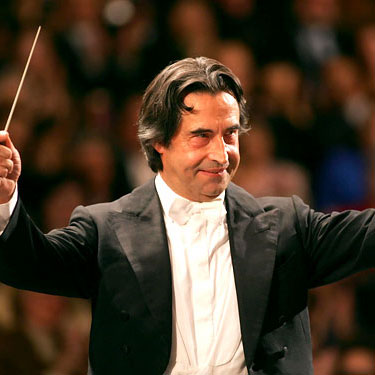 Inducted: 1992
One of today's best-known and most esteemed conductors, Riccardo Muti is known for charismatic, brilliant performances of both concert and operatic repertoire. His father was a physician with a natural vocal talent who supported the young Riccardo's interest in music by giving him his earliest piano and voice lessons. Muti undertook formal musical studies at the Conservatorio di Musica San Pietro a Majella in Naples, where he earned a diploma in piano; among his teachers there was Nino Rota, the well-known composer of film and concert music. Muti's education continued with studies in composition and conduction at the Verdi Conservatory in Milan and a conducting seminar with Franco Ferrara in Venice.
Muti first came to widespread public attention as the winner of the prestigious Guido Cantelli Conducting Prize in 1967; soon after, he made his official debut, conducting the Italian Radio and Television Orchestra. He quickly became an in-demand guest conductor, and his successes in that capacity led to his first full-time appointment in 1970, as principal conductor of the Maggio Musicale of Florence.
All the while, Muti maintained a busy schedule of high-profile engagements, including notable appearances at the Salzburg Festival (1971) and with the Berlin Philharmonic (1972). He first appeared in the United States with the Philadelphia Orchestra (1972); with the retirement of Eugene Ormandy in 1980, Muti became that ensemble's music director. It proved to be the most illustrious and fruitful of Muti's professional associations, and extended beyond his resignation in 1990 to a post as laureate conductor and continued guest appearances. Under Muti's guidance, the orchestra assumed a principal role in the commissioning and performance of new American works, for which they received ASCAP's top award in 1987. In addition to increasing outreach and educational programs, Muti and the orchestra toured extensively, including the celebrated South American tour of 1988, the orchestra's first in 22 years. Together, they recorded a wide range of symphonic repertoire for EMI/Angel Records, including the internationally praised Beethoven Symphonies, and Muti's 1983 revival of the orchestra's performance of opera was greeted as an important and exciting development by international critics. Some have observed that Muti's effect on the fabled "Philadelphia Sound" was one of increased brightness and incisiveness, while he preserved the ensemble's singular luster.
Before assuming the helm of the Philadelphia Orchestra, Muti continued his journey toward international stardom in posts with the New Philharmonia Orchestra and the Vienna State Opera. During his tenure in Philadelphia, Muti also assumed the music directorship of La Scala, where he enjoyed a number of great successes. He has proven himself particularly versatile in operatic repertoire, excelling in interpretations of Mozart, the Italian Romantics, Wagner, and the masterpieces of the twentieth century.
Joseph Stevenson, All Music Guide (allmusic.com)