Rob Hyman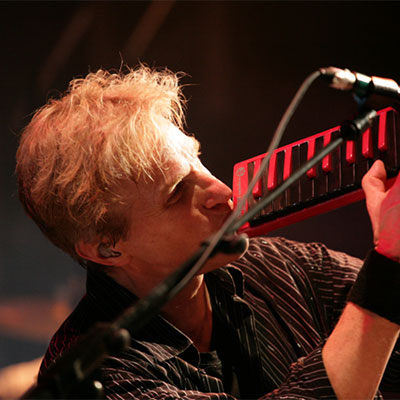 Inducted: 2000
Rob Hyman moved to Philadelphia to attend The University of Pennsylvania, where he met his musical soul mate, Eric Bazilian, and has remained in Philadelphia ever since. Hyman and Bazilian first teamed in the group Baby Grand, which also included future producer Rick Chertoff; after a pair of LPs for Arista, the band dissolved in 1978, and formed the Hooters soon after. Also including guitarist John Lilley, bassist Rob Miller, and drummer David Uosikkinen, the Hooters honed an eclectic blend of rock, folk, and ska, taking their name from the melodica, or "hooter," which lent their sound its distinctive edge; while the Hooters earned a devoted cult following at home in Philadelphia, Hyman and Bazilian also enjoyed busy careers as composers and session players, most notably contributing extensively to Cyndi Lauper's 1983 blockbuster She's So Unusual. Hyman co-wrote the time-honored classic "Time After Time" which earned him a GRAMMY® nomination for Song of the Year in 1984 and reached #1 on the Billboard Hot 100. "Time After Time" has been covered by such diverse artists as Miles Davis, Tuck and Patti, Blaque and Cassandra Wilson.
The Hooters' debut LP, Amore, appeared on the tiny local imprint Antenna in 1983 and sold 100,000 copies. The group issued its major label debut, Nervous Night, in 1985 upon signing to Columbia. The record fell just shy of the Top Ten on the strength of a series of chart hits including "All You Zombies," "And We Danced," "Day by Day," and "Where Do the Children Go"; the follow-up, 1987's One Way Home, also went gold, and the single "Satellite" was a smash overseas.
Hooters touring highlights include opening the 1985 Live-Aid concert in Philadelphia, Amnesty International at Giants Stadium in 1986, the Tokyo Dome (1987), Concert for World Hunger at Carnegie Hall (1989) and Roger Waters' extravaganza at the Wall in Berlin (1990).
After 1989's Zig Zag failed to reach the Hot 100, Columbia dropped the group. In 1993 did they released Out of Body on MCA. The following year's The Hooters Live remains their final effort to date, although Hyman and Bazilian continued their busy writing and arranging careers, appearing on albums from artists ranging from Sophie B. Hawkins to Jon Bon Jovi. Hyman co-wrote, arranged, sang and played on Joan Osborne's Platinum selling debut Relish in 1995 and he co-produced Largo in 1998 featuring an all-star cast including The Chieftans, Carole King, The Band, Taj Mahal Joan Osborne and Cyndi Lauper. In 1999, Rob had another hit with Ricky Martin's "Private Emotion" (co-written with Bazilian) and, in 2000, he co-wrote and produced "Christmas of Love" in The Grinch, the Ron Howard film starring Jim Carrey. Hyman is active in music education and maintains a recording studio in Philadelphia.
Jason Ankeny, All Music Guide (allmusic.com)