Robert Marcucci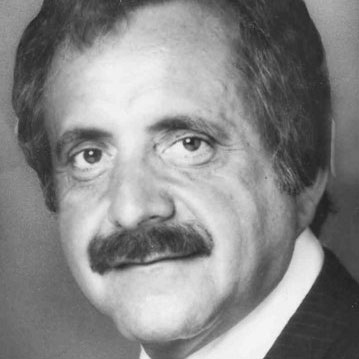 Inducted: 1995
Songwriter, arranger, producer Bob Marcucci was responsible for the hits that put Frankie Avalon and Fabian on top of the charts, including "Why, Too Young To Love," and "De De Dinah," and managed the careers of Lou Christie, Johnny Rivers, Rod Lauren, and many others. The movie The Idolmaker, directed by Taylor Hackford in 1980, is based upon Marcucci's life and career as mentor and personal manager to the stars of the fifties and sixties.
At age 17, Marcucci teamed with his good friend, Pete DeAngelis. This prolific pair penned hundreds of songs, leading to the formation of Chancellor Records, to produce and promote their works. On the heels of their first hit record, Jodie Sands' "With All My Heart," Chancellor Records skyrocketed, along with the fame of their recording artists Jodie Sands, Claudine Clark, Frankie Avalon and Fabian. Both Frankie Avalon and Fabian put a long series of hits on the charts from 1958 to 1962, which pretty much kept the label afloat. The record company greatly benefited from the exposure they were able to get on the locally-based but nationally broadcast American Bandstand.
Marcucci's ever-evolving career took him into artist management and the motion picture industry (as a technical advisor on The Idolmaker and producer of other films). Today, from his home in Southern California, he continues to be active in both artist management and project development, including plans to write the definitive Idolmaker story about the creation and promotion of stars in the recording industry.