Russell Faith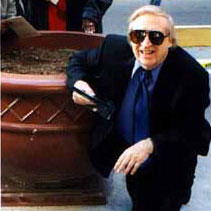 Inducted: 2000
Composer, arranger, lyricist, record producer, conductor, vocal coach, pianist, guitarist… what can't Russell Faith do? As a songwriter, Russell has written for Frank Sinatra, Nat King Cole, Sarah Vaughn, Andrea McArdle, Frankie Avalon, Jose Feliciano, the Four Aces, Conway Twitty, Loretta Lynn, Annette Funicello, the Four Freshman, Fabian and a host of other notable recording artists. Some of Faiths' most popular songs, co-written with Clarence Kehner, are the #5 hit Frankie Avalon's "Bobby Sox to Stockings", (songwriter Richard DiCicco also contributed), "Somewhere in Your Heart," a Top 20 hit for Frank Sinatra and the title track of Sarah Vaughn's Snowbound album (also recorded in 2001 by Barbra Streisand). Russell has also penned a number of motion picture theme songs and soundtrack hits, the most memorable being Voyage to the Bottom of the Sea.
Faith passed away on September 1, 2004. His obituary from the Philadelphia Inquirer is below.
Russell H. Faith, 'Mr. Music'
By Natalie Pompilio
Inquirer Staff Writer
September 7, 2004
They called Russell H. Faith "Mr. Music."
He started playing the guitar at age 7, performing in churches and bars – sneaked into the latter by his father. As a teenager, he began writing songs, eventually composing tunes for the likes of Frank Sinatra, Frankie Avalon and Sarah Vaughan. For more than 40 years, he gave singing lessons at his Newtown School of Music, watching his students go on to careers on Broadway and in Hollywood.
"It was music 24/7 with him," said Mr. Faith's son, Russell. "He was one of the most unique, versatile musicians and songwriters of all time. He just did it all."
Faith died Wednesday at Abington Memorial Hospital of complications from a stroke.
Born in Horsham, Mr. Faith grew up in Kensington and met his wife, Jennie, while the pair were students at Frankford High School. He wrote "You're All I See," recorded by the Four Freshmen, for her. They were married for almost 56 years.
Mr. Faith wrote and cowrote more than 500 songs during his lifetime, his son said, including Sinatra's "Somewhere in Your Heart," Avalon's "Bobby Sox to Stockings," and Vaughan's "Snowbound," the title song of her 1962 album. Barbra Streisand included "Snowbound" on her 2001 Christmas album.
Mr. Faith's compositions were heard in 12 movies, including North to Alaska, Voyage to the Bottom of the Sea and Beach Party.
As a voice teacher, Mr. Faith shepherded original Broadway "Annie" Andrea McArdle, movie "Annie" Aileen Quinn, and actors Joseph Lawrence and Seth Green.
In 1994, the Philadelphia Music Alliance honored Mr. Faith with a PMA Founders Award. In 2000, he received a star on its Walk of Fame.
"He was very, very proud of that day. Very, very humbled. Very, very touched," his son said. "To have a star on that sidewalk meant he'd made his mark in time. It was a recognition of what he did, and that really meant a lot to him."
Timmy Kelly, an 11-year-old singer who has performed for Gov. Rendell, President Bush, and thousands of Eagles fans, started taking lessons from Mr. Faith four years ago.
"They would just sit down at the piano and they wouldn't even have to talk. Russ would hit a key and Timmy would sing it, and it was amazing to see the two of them together," said Eileen Kelly, Timmy's mother. "Russ just knew music. He gave Timmy lots of pointers, lots of great advice, and he always knew what songs Timmy should learn."
Timmy will sing two songs at Mr. Faith's funeral on Wednesday, including "What a Wonderful World," the last song the pair worked on together.
"At first, he was afraid he was going to cry," Eileen Kelly said of her son, "but we told him, 'Just give it 200 percent. For Russ. It's OK if you cry later.'"
Besides his wife and son, Mr. Faith is survived by a brother, Jack.
A musical tribute will be held at 10 a.m. Wednesday at Fletcher Funeral Home, 9529 Bustleton Ave. Funeral services will follow at 11 a.m. Friends may call from 7 to 9 p.m. Tuesday and at 9 a.m. Wednesday. Burial will be in Sunset Memorial Park, Feasterville.
In lieu of flowers, contributions can be made to the Russell Faith Music Scholarship Fund, in care of Newtown School of Music, 120 S. State St., Newtown, Pa. 18940.