Solomon Burke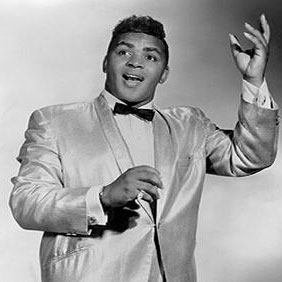 Inducted: 1994
While Solomon Burke never made a major impact upon the pop audience – he never, in fact, had a Top 20 hit – he was an important early soul pioneer. On his '60s singles for Atlantic, he brought a country influence into R&B with emotional phrasing and intricately constructed, melodic ballads and mid-tempo songs. At the same time, he was surrounded with sophisticated "uptown" arrangements and provided with much of his material by his producers, particularly Bert Berns. The combination of gospel, pop, country, and production polish was basic to the recipe of early soul. While Burke wasn't the only one pursuing this path, not many others did so as successfully. And he, like Otis Redding and Wilson Pickett, was an important influence upon the Rolling Stones, who covered Burke's "Cry to Me" and "Everybody Needs Somebody to Love" on their early albums.
Burke came by his gospel roots even more deeply than most soul stars. He was preaching at his family's Philadelphia church, and hosting his own gospel radio show, even before he'd reached his teens. He began recording gospel and R&B sides for Apollo in the mid- to late '50s. Like several former gospel singers (Aretha Franklin, Wilson Pickett), he was molded into a more secular direction when he signed with Atlantic in the 1960s.
Burke had a wealth of high-charting R&B hits in the early half of the '60s, which crossed over to the pop listings in a mild fashion as well. "Just Out of Reach," "Cry to Me," "If You Need Me," "Got to Get You Off My Mind," "Tonight's the Night," and "Goodbye Baby (Baby Goodbye)" were the most successful of these, although unlike Franklin or Pickett, he wasn't able to expand his R&B base into a huge pop following as well. He left Atlantic in the late '60s, and spent the next decade hopping between various labels, getting his biggest hit with a cover of Creedence Clearwater Revival's "Proud Mary" in 1969, and recording an album in the late '70s with cult soulster Swamp Dogg as producer.
In the 1980s and 1990s, Burke became one of the most visible living exponents of classic soul music, continuing to tour and record albums in a rootsy, at times gospel style. Although these were critically well received, their stylistic purity also ensured that their market was primarily confined to roots music enthusiasts, rather than a pop audience. His live and later recorded work, however, is a favorite of those who want to experience a soul legend with his talents and stylistic purity relatively intact. Burke's 2002 release Don't Give Up on Me was hailed as a major comeback for the legendary soulman. Great songwriters like Elvis Costello, Dan Penn, Nick Lowe, and Tom Waits contributed songs and Joe Henry produced the album, which won a GRAMMY for Best Contemporary Blues Album.
Richie Unterberger, All Music Guide (allmusic.com)