Teddy Pendergrass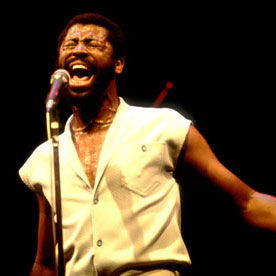 Inducted: 1989
Teddy Pendergrass started singing gospel music in Philadelphia churches, becoming an ordained minister at ten years old. While attending public school, he sang in the citywide McIntyre Elementary School Choir and in the All-City Stetson Junior High School Choir. A self-taught drummer, Pendergrass had a teen pop vocal group when he was 15.
By his late teens, Pendergrass was a drummer for local vocal group the Cadillacs. In the late '60s, the Cadillacs merged with another more-established group, Harold Melvin & the Blue Notes. In 1970, Harold Melvin, now aware of Pendergrass' vocal prowess, asked him to take the lead singer spot. It's no secret that Kenneth Gamble and Leon Huff wanted Marvin Junior of the Dells for their Philadelphia International Records roster. Since the Dells were signed to Chess, they were unavailable. When the gruff'n'ready vocals of Pendergrass came their way, they eagerly signed the group.
Beginning with "I Miss You," a steady stream of hit singles flowed from the collaboration of Pendergrass and Gamble & Huff: "If You Don't Know Me By Now," "The Love I Lost," "Bad Luck," "Wake Up Everybody" (number one R&B for two weeks in 1976), and two gold albums, To Be True and Wake Up Everybody.
Unfortunately, the more success the group had, the more friction developed between Melvin and Pendergrass. Despite the revised billing of the group, Harold Melvin & the Blue Notes featuring Theodore Pendergrass, Pendergrass felt that he wasn't getting enough recognition. Around 1976, Pendergrass left Melvin's Blue Notes and formed his own Blue Notes, featuring Teddy Pendergrass. Briefly, there was some confusion as to which Blue Notes were which. The resolution came when Pendergrass disbanded his Blue Notes in favor of a solo career and Melvin's group signed a recording contract with Source Records, distributed through ABC Records, scoring a hit with "I Want to Be Your Lover."
Pendergrass signed a new contract with Philadelphia International Records in late 1976/early 1977. He burst back on the scene with Teddy Pendergrass, a platinum solo debut that included the top-notch singles "I Don't Love You Anymore," "You Can't Hide From Yourself," and "The More I Get the More I Want." Around this time, Pendergrass began to institute his infamous "Ladies Only" concerts. His next three albums went gold or platinum: Life Is a Song Worth Singing (1978), Teddy (1979), and Teddy Live (Coast to Coast). The hit single "Close the Door" was used in the film Soup for One, where Pendergrass had a small role.
The singer received several Grammy nominations during 1977 and 1978, Billboard's 1977 Pop Album New Artist Award, an American Music Award for best R&B performer of 1978, and awards from Ebony magazine and the NAACP. He was also in consideration for the lead in the movie biopic The Otis Redding Story. The '70s ended, but Pendergrass kept racking up the hits. TP, his fifth solo album, went platinum in the summer of 1980 off the singles "Turn Off the Lights," "Come Go With Me," "Shout and Scream," "It's You I Love," and "Can't We Try." It's Time for Love gave Pendergrass another gold album in summer 1981, which included the hit singles "Love TKO" and "I Can't Live Without Your Love."
A 1982 car accident left Pendergrass paralyzed from the waist down and wheelchair bound. After almost a year of physical therapy and counseling, Pendergrass returned to the recording scene, signing a contract with Elektra/Asylum in 1983. His ninth solo album, his Elektra/Asylum debut, Love Language went gold the spring of 1984. Philadelphia International issued two albums of unreleased tracks, This One's for You (1982) and Heaven Only Knows (1983). Other albums included Workin' It Back (1985), Joy (1988, whose title track went to number one R&B for two weeks), and Little More Magic (1993). The latter half of '90s found Pendergrass recording for the Surefire/Wind Up label, and in 2002 he released a holiday album, This Christmas I'd Rather Have Love on BMG Special. Truly Blessed (the name of a 1991 Elektra album) is the title of the autobiography Pendergrass co-authored with Patricia Romanowski.
Ed Hogan, All Music Guide (allmusic.com)