The Heath Brothers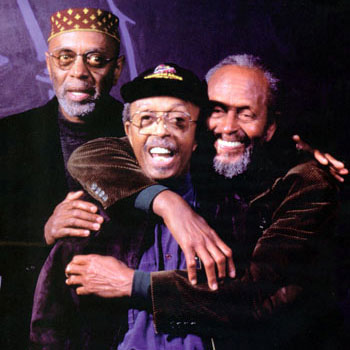 Inducted: 1993
Tootie Heath b. May 31, 1935
Jimmy Heath b. October 25, 1926
Percy Heath b. April 30, 1923
Jimmy, Percy, and Tootie Heath teamed up in 1975 to form the Heath Brothers. Up until then, bassist Percy had been busy with the Modern Jazz Quartet, but with the group in "retirement" (temporarily as it turned out), all three brothers were free to join forces. Originally a quartet with pianist Stanley Cowell, but expanding after the addition of guitarist Tony Purrone and Jimmy's son Mtume on percussion, the band recorded for Strata East (1975), four albums for Columbia, and two for Island. Tootie Heath left the group early on and was replaced by Akira Tana, although he came back for the final 1983 record. Although the Heath Brothers' music was essentially hard bop, there were occasional departures into jazzy R&B on isolated selections.
Scott Yanow, All Music Guide (allmusic.com)
Jimmy Heath
The middle of the three Heath Brothers, Jimmy Heath has a distinctive sound on tenor, is a fluid player on soprano and flute, and a very talented arranger/composer whose originals include "C.T.A." and "Gingerbread Boy." He was originally an altoist, playing with Howard McGhee during 1947-1948 and the Dizzy Gillespie big band (1949-1950). Called "Little Bird" because of the similarity in his playing to Charlie Parker, Heath switched to tenor in the early '50s. Although out of action for a few years due to "personal problems," Heath wrote for Chet Baker and Art Blakey during 1956-1957. Back in action in 1959, he worked with Miles Davis briefly that year, in addition to Kenny Dorham and Gil Evans, and started a string of impressive recordings for Riverside. In the 1960s, Heath frequently teamed up with Milt Jackson and Art Farmer, and he also worked as an educator and a freelance arranger. During 1975-1982, Jimmy Heath teamed up with brothers Percy and Tootie in the Heath Brothers, and since then has remained active as a saxophonist and writer. In addition to his earlier Riverside dates, Jimmy Heath has recorded as a leader for Cobblestone, Muse, Xanadu, Landmark, and Verve.
Percy Heath
The oldest of the three Heath Brothers, Percy Heath's association with the Modern Jazz Quartet was the dominant activity of his career. An excellent soloist and a perfect accompanist with an appealing tone, Heath (who grew up in Philadelphia) was originally a violinist. He switched to bass in 1946, was soon playing locally, and the following year he moved to New York with brother Jimmy to join Howard McGhee's band. Heath played with the who's who of bop (Charlie Parker, Dizzy Gillespie, Thelonious Monk, Fats Navarro, Miles Davis, and J.J. Johnson) in various settings and recordings. In 1951, he joined Milt Jackson's Quartet which, in 1952, became the Modern Jazz Quartet. For the next 23 years, the MJQ toured and recorded constantly. After its temporary breakup, Percy joined Jimmy and Tootie in the Heath Brothers Band (1975-1982), going back to the MJQ (where he remained a key member) when they regrouped in the early '80s. Strangely enough, Percy Heath never led a record date of his own.
Tootie Heath
The younger brother of Percy and Jimmy Heath, Albert "Tootie" Heath has long been a top hard bop-based drummer with an open mind toward more commercial styles of jazz. After moving to New York (1957), he debuted on record with John Coltrane. Heath was with J.J. Johnson's group (1958-1960) and the Jazztet (1960-1961), worked with the trios of Cedar Walton and Bobby Timmons in 1961, and recorded many records as a sideman for Riverside during that era. He lived in Europe in 1965-1968 (working frequently with Kenny Drew, Dexter Gordon, and backing touring Americans), and, after returning to the U.S., he played regularly with Herbie Hancock's sextet (1968-1969) and Yusef Lateef (1970-1974). After an additional year in Europe, Tootie joined the Heath Brothers band (1975-1978) and then settled in Los Angeles, where he continued freelancing, recording with the Riverside Reunion Band.