The O'Jays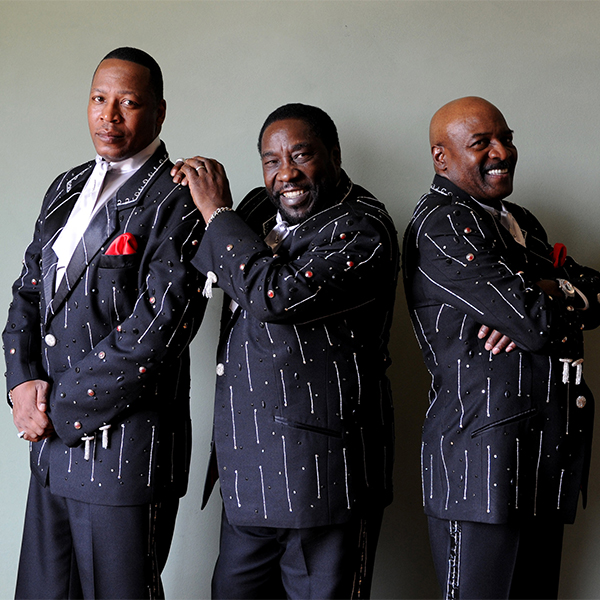 Inducted: 2019
It starts with two iconic voices that are as unmistakable as they are soaring polar opposites. Indeed, the gruff, powerful Eddie Levert and the proverbial silky smooth Walter Williams, Sr., both founding members of the celebrated R&B group The O'Jays, are so ingrained in the great American songbook that their body of work has become an indelible landmark in the pop culture consciousness. We all know the anthems that for more than four decades have moved seamlessly from soul and pop to funk and disco: "Love Train," "For The Love of Money," "Livin' for the Weekend," "Family Reunion," "Stairway to Heaven," "I Love Music," "Cry Together…"
The hits are endless; The O'Jays' legacy, as documented by their profound influence on hip-hop (EPMD's "Give The People," Heavy D & The Boyz' "Now That We Found Love," Big Pun's "I'm Not A Player," Drake's "Fake Love") to soul (Erykah Badu's "Otherside of the Game," Total's "Tell Me," Angie Stone's "Wish I Didn't Miss You") is undeniable. With 10 gold and 9 platinum albums, omnipresent singles, and a string of sold-out tours, no one would blame The O'Jays for sitting back and enjoying the fruits of their remarkable 60-year career. But Eddie and Walter, along with group member Eric Nolan Grant, are different kinds of cats.
So it's no surprise that on The Last Word, The O'Jays' first studio album in 15 years and what the band has announced will be their FINAL album, emotes the same hunger and vocal craftsmanship as the 2005 Rock and Roll Hall of Fame inductee's greatest '70s and '80s works. The 9-track S-Curve/BMG release, due out April 19, finds the Grammy-nominated act in fine form.
The Last Word was produced by the Grammy nominated producers Steve Greenberg, Mike Mangini and R&B legend Betty Wright (the trio behind Joss Stone's "Soul Sessions"), along with the songwriter and rock/pop mastermind Sam Hollander (Panic! at the Disco, Weezer, Neon Trees).
"It's almost like having a bucket list," Eddie explains, when asked why the group decided to return to the studio one final time to create some magic. "We wanted to do an O'Jays album that's fantastic from beginning to end. This project definitely does just that."
Walter takes an even more irreverent view on The O'Jays' defiant, and celebratory musical statement. "We wanted another hit record," he muses. "We wanted attention from the world and the music industry. Feeling like you're still able to perform – certainly live, but also on record – you just want to compete with the new artists that are out there. The recording industry should embrace The O'Jays because we have paved the way for a lot of the artists that are having extraordinary success today."
But it's more than that.
Songs like the gloriously uplifting "I Got You" prove that The O'Jays still got something to say. The track, written by indie blue eyed soul artist Michael Blume, is an up-tempo cut that gives a heavy orchestral nod to the regal sound of legendary production duo Kenneth Gamble & Leon Huff, the storied Philadelphia tandem that wrote and produced some of The O'Jays' biggest hits including "Back Stabbers," and "Use ta Be My Girl."
"Even if the sky begins to fall, and even if they try to build that wall, and even if the bomb goes off and the world is set on fire, I got your back," proclaims the song's heartfelt message of optimism.
"I think the producers really took a page out of Gamble and Huff and was able to come up with a great track," Eddie glows of the classic sonics of "I Got You." "Being with Kenny and Leon, we were great for each other. We added just as much as they added to our sound."
"It was a great pleasure and honor working with the O'Jays," says album co-producer/S-Curve Records president Steve Greenberg. "They've always been incredibly socially conscious in their music, and in these troubled times they were anxious to share some words of wisdom with the world in this, their final studio album. They certainly didn't hold back; this album speaks truth to power and will hopefully spur other artists to follow the O'Jays' lead and take a stand."
On the soulful "Stand Up" a gospel-tinged piano opening gives way to a palpable sense of urgency as Walter bemoans the nation's gun violence epidemic where no child is safe to hide "even in the finest schools." But there's always hope: "If there's a heart out there, stand up!" Eddie implores the world. And The O'Jays still find time for romance on the beautiful "I'll Be Sweeter Tomorrow [Than I Was Today]," a stripped down, intimate reimagining of the group's first top 10 R&B hit from 1967.
But perhaps the centerpiece of The Last Word is the politically charged "Above The Law." The fiery, straight-no-chaser Betty Wright-penned protest statement goes after greedy elites, racial and class inequity, and corrupt politicians with a sense of urgency that grabs you by the throat. "So now you say we're all created equal/But the sound of the gavel tells quite another sequel/Black boy on drugs imprisonment, and a heavy fine/White boy on drugs rehab and treatment to restore his mind…"
Of course message music is nothing new for The O'Jays, whose rich catalogue is filled with socially conscious statements that have not only moved legions of feet on the dance floor, but millions of hearts. Yet in this polarizing age one can no longer afford to stay on the sidelines.
"It's just time for a change," says a passionate Walter. "It's just time to stop all of this racial hate. It's time for everyone to own up to who they are and just cut it out. We are all equal people here. We all need each other."
A fervent Eddie adds: "The people need to hear a song like 'Above The Law.' It's not that we believe we can change anything with one song. We just want people to be aware and know what's going on so you won't put yourself in harm's way."
The Last Word is not only the personification of a veteran, celebrated group that is still as vital as ever, it is also a testimony to the battle-tested friendship that stretches back to when Walter and Eddie first met when they were 6 and 7, respectively. The church-reared Canton, Ohio natives both possessed exceptional vocal gifts and by 1963 they formed The O'Jays, a name that also served as a tribute to influential Cleveland radio DJ Eddie O'Jay.
The five-man group went through a pivotal change in the early '70s leaving the classic lineup of Eddie Levert, Walter Williams and the late William Powell. By '72, The O'Jays would begin a remarkable streak of 10 no. 1 singles forever cementing the group to icon status. The O'Jays were also groundbreaking change-agents becoming the first black R&B touring act to headline arenas setting the bar for other African-American talent to follow.
But along The O'Jays' triumphant ride there has been struggle and heartbreak. The sudden death of their dear brother William; Walter's shocking 1983 multiple sclerosis diagnosis of which he continues to fearlessly battle while still pulling off the group's signature onstage choreography with pinpoint precision. And of course, the crushing 2006 and 2008 loss of Eddie's sons the brilliant Gerald and underrated Sean, who had taken the baton from The O'Jays with their own multi-platinum group LeVert.
Yes, the O'Jays are not just survivors; they are upbeat fighters always looking for the next knock out. "I have pains that have pains," laughs Walter. I've always said that I love what I'm doing and I love this group, but I don't want to be in that group they call the Old Jays."
But in typical show-must-go-on fashion, Walter leaves the door open for future O'Jays music, which may include a much-reported collaboration with pop superstar Bruno Mars (who penned "Enjoy Yourself" with Patrick Monahan of Train). "You can never say never," he says with a sheepish grin. Eddie sits back and smiles following his partner's words with a take-all-comers swagger that can fill a room. "I'm like Ali – and I'm still pretty," Eddie proclaims. "I want The O'Jays to be the greatest of all time."