The Philadelphia Orchestra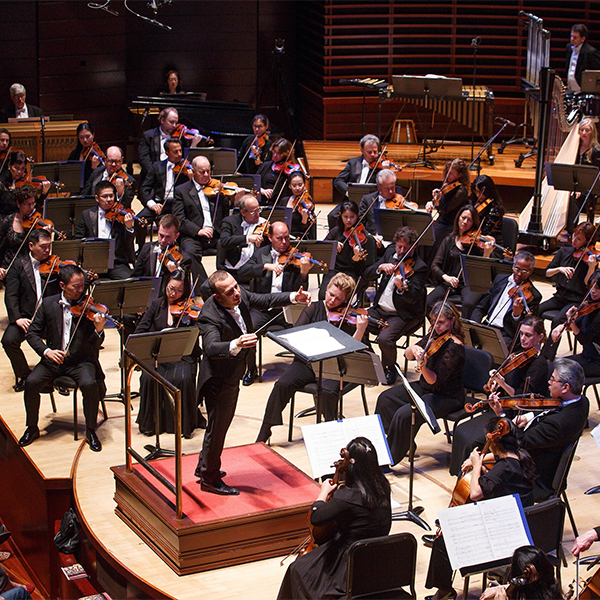 Inducted: 2019
The Philadelphia Orchestra is one of the preeminent orchestras in the world, renowned for its distinctive sound, desired for its keen ability to capture the hearts and imaginations of audiences, and admired for a legacy of imagination and innovation on and off the concert stage. The Orchestra is inspiring the future and transforming its rich tradition of achievement, sustaining the highest level of artistic quality, but also challenging – and exceeding – that level, by creating powerful musical experiences for audiences at home and around the world.
Music Director Yannick Nézet-Séguin's connection to the Orchestra's musicians has been praised by both concertgoers and critics since his inaugural season in 2012. Under his leadership the Orchestra returned to recording, with four celebrated CDs on the prestigious Deutsche Grammophon label, continuing its history of recording success. The Orchestra also reaches thousands of listeners on the radio with weekly broadcasts on
WRTI-FM and SiriusXM. Philadelphia is home and the Orchestra continues to discover new and inventive ways to nurture its relationship with its loyal patrons at its home in the Kimmel Center, and also with those who enjoy the Orchestra's area performances at the Mann Center, Penn's Landing, and other cultural, civic, and learning venues. The Orchestra maintains a strong commitment to collaborations with cultural and community organizations on a regional and national level, all of which create greater access and engagement with classical music as an art form.
The Philadelphia Orchestra serves as a catalyst for cultural activity across Philadelphia's many communities, building an offstage presence as strong as its onstage one. With Nézet-Séguin, a dedicated body of musicians, and one of the nation's richest arts ecosystems, the Orchestra has launched its HEAR initiative, a portfolio of integrated initiatives that promotes Health, champions music Education, eliminates barriers to Accessing the orchestra, and maximizes impact through Research. The Orchestra's award-winning Collaborative Learning programs engage over 50,000 students, families, and community members through programs such as PlayINs, side-by-sides, PopUP concerts, free Neighborhood Concerts, School Concerts, and residency work in Philadelphia and abroad.
Through concerts, tours, residencies, presentations, and recordings, the Orchestra is a global cultural ambassador for Philadelphia and for the US. Having been the first American orchestra to perform in the People's Republic of China, in 1973 at the request of President Nixon, the ensemble today boasts partnerships with Beijing's National Centre for the Performing Arts, the Shanghai Media Group, ShanghaiTech University, and the Shanghai Philharmonic. The Orchestra annually performs at Carnegie Hall while also enjoying summer residencies in Saratoga Springs and Vail. For more information on The Philadelphia Orchestra, please visit www.philorch.org.