William Smith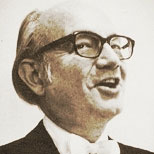 Inducted: 1996
The late William Smith, former associate conductor of the Philadelphia Orchestra, made a lifetime commitment to the Orchestra and the City of Philadelphia that has had a lasting impression on musicians and students of classical music. Mr. Smith's dedication earned him a reputation as the orchestra's "iron man" – his energy and enthusiasm for his work both on and off-stage was unsurpassed.
Smith grew up in Haddon Heights and studied music at the University of Pennsylvania. He began his association with The Philadelphia Orchestra in 1952 as its keyboardist. He became Eugene Ormandy's assistant conductor during the 50's and 60's and, in 1976, Smith was named to the position of Associate Conductor. Over four decades, William Smith conducted more than 800 performances of the Orchestra.
Mr. Smith's great passion was for his educational programs and he was responsible for planning the Orchestra's extensive program of educational concerts that continue to enrich the lives of thousands of area students. He also prepared and conducted the Orchestra of The Curtis Institute of Music, conducted at the New School of Music (now the Esther Boyer College of Music) at Temple University, and presided over the Albert M. Greenfield Student Competition. Smith was so dedicated to his students that he reportedly turned down opportunities to lead orchestras in other cities.
Many of Philadelphia's finest classical musicians were introduced under Mr. Smith's baton. From his first appearance with the Philadelphia Orchestra in 1953, when he replaced Igor Stravinsky who had taken ill, to his last while conducting a children's concert at the Academy of Music in 1985, William Smith's contribution to Philadelphia's music community is monumental.